Check if your business needs a mobile app
Apps, apps, apps…… they are everywhere. In this digital era, every company irrespective of its size wants to build its own custom app as it helps them drive sales and build an easily accessible customer base. But as a business owner do you really need to develop a mobile app? You can simply develop your business website, which would be more economical, faster, and even easier to implement. Understanding whether both are required or which one is required first can help you in beginning your digital transformation journey.
So, how do you decide whether your business needs a mobile application or not. Here is a guide with questions that help you to identify.
1. Do you have an optimized mobile website?
Before you plan for creating a mobile app for your business, it is better to take a look at how your business website functions on mobile devices. If you have a responsive website design, it can greatly improve your customer's experience on mobile devices, and responsive themes are easily available on popular platforms like WordPress and Shopify.
Despite knowing this fact, many business owners do not create a mobile-friendly website. If you are in the same boat, then you need to pay serious attention to upgrading your mobile website before planning for a mobile app. Or, if your business needs to be mobile-first, then plan for an app.
2. What a mobile app can do that your responsive mobile site cannot?
Before you plan to build a brand-new app, ask yourself what new functionality an app can bring to your business that the mobile version of your site absolutely cannot do? Developing a mobile app, preferably for both platforms iOS and Android can require more investment, hence you need to think about what potential value it would get for your business.
3. Who is your target audience?
You need to sit down and think about who will be using your mobile application, and whether they use smartphones or not? For example, if you are selling an anti-aging cream to ladies above 50 years of age, what are the chances will use your app? Branding can work better there rather than automation of operations via an app.
On the other hand, if your target audience is 16 to 24 years old, there's a much higher chance of having a successful app. According to Comscore research, 18-to-24-year olds love spending an amazing two-third of their digital media time on smartphone apps alone, and in the 25 to 44 age group, more than 50% of digital media time is dedicated to apps.
4. Are your competitors using mobile apps?
When evaluating whether your business should have an app or not, it makes sense to examine what your competitors or business rivals are doing. Try finding out whether they are offering apps or not, and if yes, what they are doing with it? What additional ease is getting created because of these apps, either for business or for consumers? How consumers are responding to their apps? How much success they are having with it? And how can you one-up them?
If their apps are getting traction, they may have identified something which you still need to discern. Once you understand that, you may create your mobile app with improved functionality to take a significant shot to emerge ahead of the competition.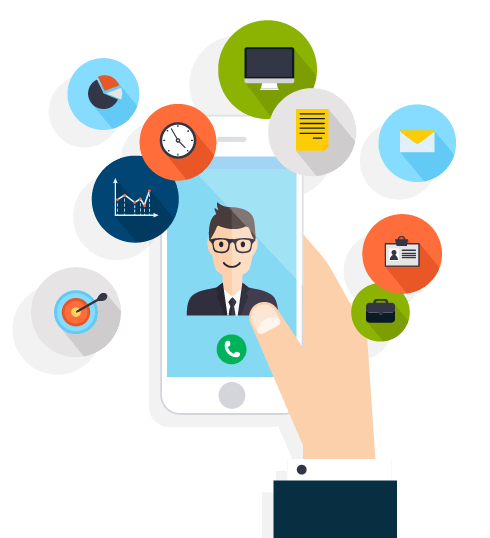 5. Do you want to know what customers think about your business?
As a serious business owner, you must be very much concerned about what your customers are thinking about your business. If you agree, then a mobile application is what you should go with.
If you want to allow customers to state their needs or remarks like suggestions, reviews, or even maybe complaints about your products and services, then you might consider creating your mobile application. If you can make anything easier for your customers via an app while giving them real-time updates, then an app is the way forward.
6. Can your mobile app solve customer's problem?
Does your mobile app plan to solve the customers' problem? Think of this seriously and find out what problems your customers are facing, and how your app can resolve them.
For example, earlier you may have to walk an extra mile to have food at a restaurant, but today, big and popular restaurants provide food at your doorstep. You just have to download the app to order food from anywhere to enjoy it where you are. Think of providing similar solutions when developing your own app.
7. Can it simplify user journey and conversions?
One of the primary reasons why eCommerce sales conversion rates lag is the clumsiness of inputting information such as billing and shipping addresses. If your business depends on repeat customers like delivery of grocery products or food, then optimizing information input can increase your sales.
Further, if you are offering a reward to your customers with targeted coupons, discounts, and other incentives, then having an app for your business can really prove beneficial.
8. Is it possible to build an app that uses the functionality of mobile devices?
There are certain apps that use the functionality of mobile devices like camera or accelerometer, or location, etc. These types of apps are very much popular with today's users. Such apps offer a user experience that a website can't match. Examples of few such apps are fitness apps like Runkeeper, and transport and direction apps like Citymapper, etc.
The above-mentioned questions should help you identify whether you have reached the stage of creating a custom mobile app. It might turn out that you need one immediately or at some later stage of your business.