A Good UX Design is a Reward for any Business in Today's Digital Age
Many business models focus on their self-interest rather than on user experience design while developing a product.
A good and effective UX design can be a reward for any business in today's digital age.
Enhancing customer pleasure through the better web or app interaction is the primary goal of user experience (UX) design.
Good user experience design means a good business. It can allow a product to reach its true potential. In addition, it can help enterprises to improve customer satisfaction, enhance customer retention and loyalty, and, on top, improve revenue.
In this digitalized era, user experience (UX) design is an essential concern and one of the most in-demand disciplines. According to Forester research, every hundred dollars invested in UX (user experience) design can allow a business to get an ROI of as high as 9,900%.
This article aims to help you understand the bottom line – why investing in a good and effective UX design can be rewarding for your business.
Let's get started! 
Contents:  
User Experience design – what precisely
does
it
mean
?
User experience design is a broad and highly interdisciplinary field. In simple words, user experience (UX) design refers to the relationship between the product and the person experiencing it. It is about how users feel when interacting with a product or service as well as the availability of relevant actions on that screen to achieve business objectives. In a nutshell, the entire user experience (UX) design process encompasses everything from the acquisition and integration of a product to branding, design, usability, and functionality.
What makes "X" stand out?
In UX design, the letter 'X' denotes eXperience. It defines an end user's quality of experience with a specific product, service, brand, or business organization. Genuinely, the X-factor in the "user experience design" increases the product value.
Usually, 90% of users stop using an app if it delivers poor performance or if they have a terrible experience. While 86% delete or uninstall an app because of problems with its functionality or design. After all, it is the 'experience' that ultimately impacts the success or damage of any brand. The companies like Apple, Adobe, Google, and Amazon are leading in their respective fields because they have given importance to this X -factor while designing their product or service.
Companies have seen a 37% boost in revenue with excellent user experiences.
Why Investing in User Experience design is fruitful?
At the moment, if you have got a great product, then it is supreme. But it would be best if you had more than that to beat your market competitors. Investing in user experience (UX) design can help you build a digital product that is easy to use and learn. It helps in user acquisition, product usage, customer retention and building affinity with your brand.
Here are some more essential reasons for you to check out:
Spend less time on the development process

:

The developers generally spend almost 50% of their time reworking projects.

With the UX design process in action, the UX designers test and iterate flows before handing them to a developer. As a result, the products get released faster because developers need to focus on fewer modifications or changes.  

 

Increasing sales

: Your customers can easily explore your website, app, etc., and find the information they need. Therefore, the right people can find the right product. Consequently, this may lead to higher sales numbers.

 

Provide a considerable return on investment

:

Investing in UX design for an organization does not simply mean ROI in terms of money. It also means the return of happy customers over and again.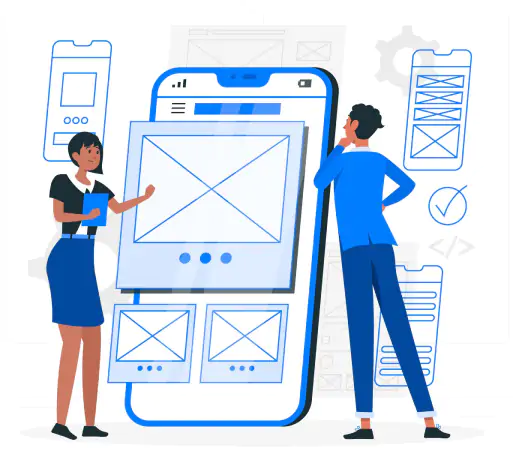 Develops customer loyalty and rise of mouth-of-word referrals

:

The happier customers not only may return and spend more but also recommend the products to other people (friends, relatives, etc.) and become your loyal customers.   

 
Whether someone completes a transaction or gives up halfway, recommends a product or speaks about a distressing experience, returns to a site, or moves to a competitor – all are determined ultimately by the quality of the experience.
As time passes, these minor details, if not taken care of, can add up to millions of dollars in revenue lost annually. UX design is a worthwhile investment for this reason alone.   
The Business worth of an Effective UX Design
A good and effective UX design can help a business to:   
Match business needs with the target audience

: Unless and until a company serves its customer's needs, the product or service misses out on both its value and objectives. So, refining and rebalancing the needs of both

 

is essential. And the best way to accomplish that is with the assistance of seasoned UX (user experience) designers.

 

 
Identify quick fixes

: Often, minor things can make a big difference and restrict you from getting excellent user engagement. The UX designers can assist you to get quick fixes for things that can affect your user's engagement. These include improving loading time, fixing broken links, easing navigation, overall visual presentation, etc.  

 
Step out of the design trench

: With the change of time, the user's persona also changes. To cope with the market evolution, UX (user experience) designers use changing technologies, demographics specific decisions, and interaction patterns to meet the actual customers' requirements.  

 
Measure goals, outcomes, and gauge succes

s

: Organizations mainly look forward to three things – profit-making, growing and succeeding. But this perception completely changes through a UX design lens. The measuring metrics used in user experience (UX) design criteria can help to measure your overall customer satisfaction levels, which are signs of higher loyalty that can get directly reflected in your company's revenue, success, and growth. 

 
Get assistance on the minimum viable product (MVP)

:

A knowledgeable designer with a thorough understanding of the platforms and product development process can undoubtedly aid businesses to avoid designing a product that customers are not looking for. The UX design specialist offers assistance in developing a plan that can result in a marketable product release with efficiently arranged core features.  

 
Help bring the user-centered design to the table

: A UX designer carries out research before product development. Once the analysis is complete, the design and development teams decide if the changes that needed to be made must be light, medium, or heavy touch to the prototype. Software development processes that follow this agile methodology align with best practices.     

 
Consequences when
C
ompanies fail to
I
nvest in User Experience (UX) design
User experience (UX) design can be good for any business. Investing in good UX design makes the difference between businesses that grow and those that hover.
Organizations must pay attention to the user's requirements and expectations in an era when the user's experience is key to product success. Some companies already do this, but they are still in the minority.
When a business fails to invest in hiring a good product designing team, it may face adverse consequences for not prioritizing UX (user experience) design.
What are they? Get a look at it.    
90% of customers may stop using your app, website, etc. completely.   

 

7% decrease in your website or app conversion, if a delay of only one second in page response takes place.  

 

Approximately 40% of the users may stop engaging in case if the image

s

load slowly.  

 

About 70% of users might abandon their carts while shopping online if they come across any bad experience.

 

If there are distractions on screens that can deviate users from business objectives, conversions may drop hugely.     

 
Therefore, neglecting to prioritize and invest in UX (user experience) design can result in adverse outcomes including disappointed customers, increased time for product development, and a bad reputation for the brand. 
What makes a

G

reat (UX) user experience design?

 

 
UX aims to create a positive experience that ensures users' trust in a product or a brand.
Identifying a good and bad user experience design takes time and effort. A good UX design needs a lot of work to make right.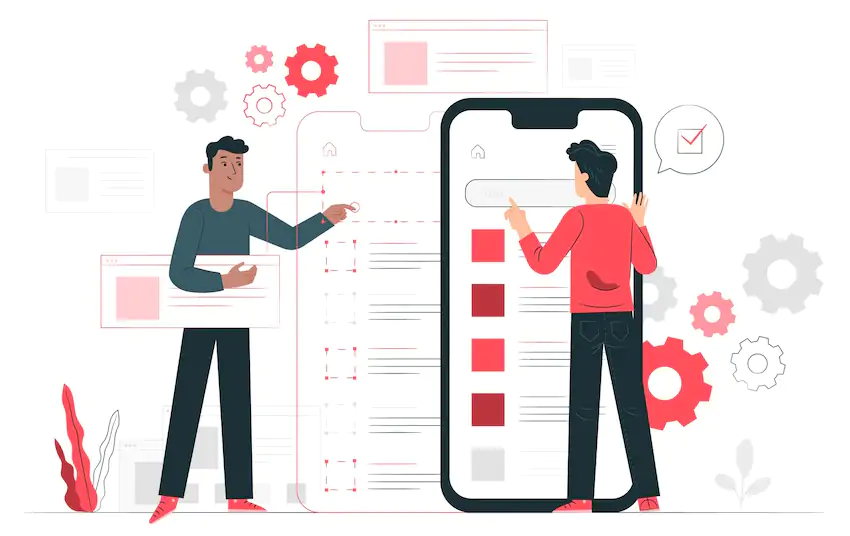 The fundamental principles that drive an exciting user experience design include:
The user researchers primarily need to perform excellent research on the user's challenges and activities and then propose a solution

.

 

Usability experts need to examine and conduct usability testing.   

 

A user-centric approach that can lead consistently to usable and functional products. The benefits it offers are many-sided and recurring. 
What does it take to make an excellent User Experience Design?
The pointers below highlight the critical facets that make a great User Experience Design –
Operational

: Easy-to-use app features, intuitive navigation, supportive customization, and accessible design patterns that take hardly any time to learn.

 
Findable:

The content must be navigable and localizable, both on and off-site.

 

 

 

Desirable:

Image, corporate identity, and all design components must induce positive emotions.   

 

Valuable:

The content developed must be unique and satisfy the user's needs.   

 

Dependable:

The users must believe whatever you present, or else your brand reputation, can be in danger.

  

 

 

Manageable:

The app or the product developed can be managed easily by people even by those who are disabled.   

 
The Potential Benefits of a Good UX Design
Offers the best solution that satisfies your customer's needs   

 

It helps to reduce your development and support costs
It gives a lift to customer engagement   

 

Enable you to gain a competitive edge over rivals 

 

Delivers more precise prototyping    
It's sensible to accept that since the business worth of UX design is so enormous, one must recognize the significance of hiring a highly qualified team of UX designers. It's an expert UX team who can help you to create the experience your users can go through and enjoy when using your service or product.
The modernized digital world favours brands with the best user experiences. Even if your digital product is the most cutting-edge, innovative, and potentially world-changing, a bad UX (user experience) design can shatter it before it has an impact.
Are you facing issues with the usability of your product? Want to improve your user experiences for better ROI? Reach out to our UX experts at Mind IT® for consultation and support.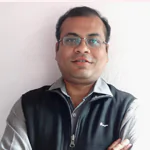 Sujoy Roy
(Head – Digital Marketing)
From my teenage time, I had a quench to solve problems and loved leadership. Starting my career in relation management, ignited my passion for managing people. While managing I realized technology needs to be incorporated to keep pace with the changing world & do my work efficiently.