Top 2 Challenges of Hospitals today
We stay in times where some of the earlier technologies have reached their full potential, and now newer technologies are on the verge of creating groundbreaking breakthroughs in our lives. Indeed, the upcoming technologies have transformed the market realities. And no sector is indifferent to this change, especially as digital maturity increases across the world.
According to a recent study examining digital maturity in six industries, the healthcare industry is still lagging about a decade behind other industries so far as digital transformation of healthcare is concerned, which helps to retain customers.
Yes, you read that right!  
In a current survey made on the digital transformation of healthcare, only seven percent of healthcare and pharmaceutical companies said that they had gone digital, compared to 15 percent of companies in other industries. 
The healthcare industry impacts the entirety of humanity and is connected to our physical, mental, and emotional well-being. Emerging technologies are transforming this industry in medical care, patient monitoring, and revolutionary treatments. On an operational level, digital transformation of healthcare is still lacking though, which causes wastage of time, money and effort.  
Challenge #1: Information & service consolidation
Matching digital to physical on-ground service levels along with utilizing the latest medical advances is still a huge nightmare for most hospitals. With the information of different types like medical, patient information, billing, care, monitoring etc. now simply flowing in hospital, data is not an easy beast to handle any more.
This data is coming not only from patient's visits, but is also flowing in through third-party platforms, lab networks, prescription networks, IoT devices, medical equipment like connected devices, surveys and so on and so forth. It's no longer a simple, structured trickle of data, but rather a sea of unstructured data, usually known as big data.
The medical community easily embraces big data advances, but implementations are not so common.  Most hospitals, even large healthcare organizations, lack sophisticated architectures and data management systems for managing data collected from multiple sources. The problem is the use of relational databases that cannot efficiently manage unstructured data from multiple sources.
Moving from singular relational databases to multiple types of databases can help healthcare providers handle large, unstructured and semi-structured data. As your business grows and your data flow grows, you can scale your database architecture to accommodate new data. Decision-makers must take the initiative to plan all the models of the hospital management system at all levels – tactical, operational and strategic.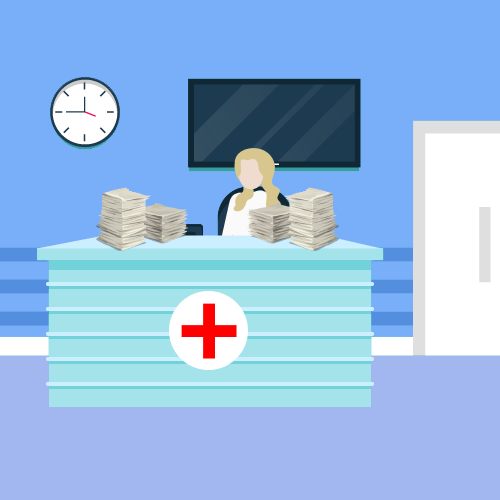 They need to focus on the digital transformation of healthcare. A pragmatic approach is partnering with a trustworthy integrator to support mature service management processes.  
Challenge #2:

Growing

patients

resulting in

longer wait times
Undoubtedly, the growing number of patients is a serious challenge that healthcare organizations are facing on a daily basis.  As a result, the patient's waiting time has also increased. Longer waiting time is an obstacle to hospital care. Waiting time is a key factor that determines the service quality of any healthcare organization and is negatively associated with patient satisfaction.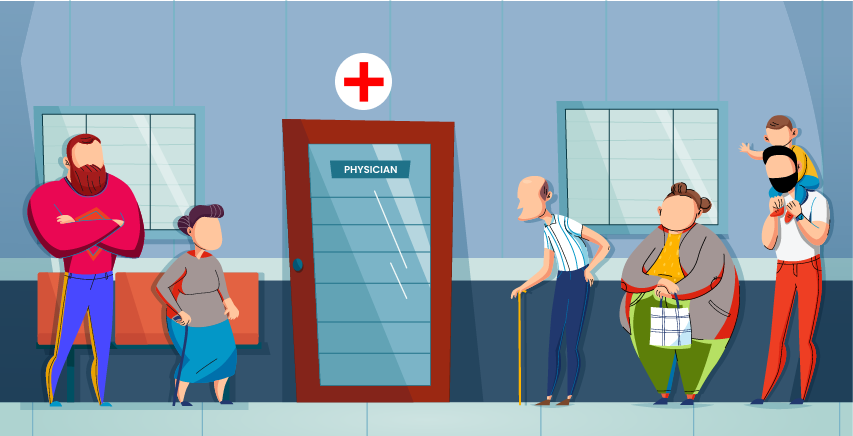 As per statistical analysis, about 21% of patients are in the jumping queue, 18% of doctors take too long to attend to any patients and approx. 16% are late for duties. The primary causes for all these are – a poor medical documentation system, absence of a proper appointment scheduling process, difficulty in obtaining the right data in the right format, and lack of digital transformation of healthcare. 
What needs to be done to overcome these challenges?
Over the years, Mind IT® experts have gained multiple insights while dealing with healthcare business owners across the globe. Patient's experience is the principal factor behind success for any healthcare organization. We help you to do so by using the power of digitalization.  
Complex challenges like information and service integration and longer waiting times for patients can be overcome by the use of AI-integrated software applications, telemedicine-based on mobile technology, as well as custom building. Definitely, the digital transformation of healthcare is the best solution. It promises to reduce the increasing pressure on resources while maintaining high-quality patient care. 
Wide range of areas which can be improved through the digital transformation of healthcare include:   
Hospital Information Management System

 

Appointment Scheduling

 

E-prescription

 

Patient Record Management

 

Medical History

 

Payment Management

 

Task Management

 

Charting and Lab Analytics

 

Communication among teams

 

And much more

 
Conclusion
Implementing new technologies is not an easy cakewalk. There are many competing solutions and options on the market, and it can be difficult to assess which option best suits YOUR specific hospital management system needs. Find an IT partner in your journey of digital maturity to provide better care for your patients, greater efficiency, and potentially new revenue streams.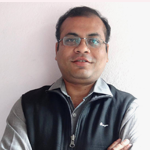 Sujoy Roy
(Head – Digital Marketing)
From my teenage time, I had a quench to solve problems and loved leadership. Starting my career in relation management, ignited my passion for managing people. While managing I realized technology needs to be incorporated to keep pace with the changing world & do my work efficiently.