Which is good to choose – IT Staff Augmentation or Managed IT Services?
Several companies are now adding additional approaches to the usual traditional outsourcing methods, such as IT Staff Augmentation or Managed IT Services for the growth of their business. Often entrepreneurs are in the midst of confusion regarding which option is better to choose and when.
To get a clear understanding of the two options, let's firstly take a deeper dive into both these models.
Both are reliable options that need to be considered before deciding on the one that operates well with the projects chosen to meet overall objectives.
Well, IT Staff Augmentation is a type of outsourcing model where a provider aims at filling the skill gaps in the workforce temporarily by fusing external IT talents into the in-house team. It is closely related to the term "IT Outsourcing" since it involves the appointment of dedicated remote developers who are officially employed by another company.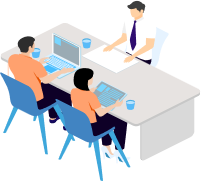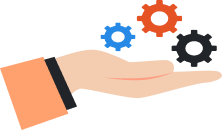 Managed IT Service is a definite kind of outsourcing strategy that covers all IT functions. There is the involvement of a strategic partner with a wide range of responsibilities. A provider manages all IT activities, provides business consulting and manages a variety of operational processes, such as hiring, infrastructure maintenance, monitoring, and reporting.
Staff Augmentation Vs Managed Services – Comparing the Benefits of Each:
Benefits of IT Staff Augmentation –
The seeker has the option to choose a developer from the provider depending upon the domain expertise and skills needed for a specific project.
The client company regulates the criterion and retains control over staff selection.
Executives are flexible in adding resources to the internal team when needed.
Benefits of Managed IT Services –
Managed Services provide entry to a broader range of skills and knowledge. The provider not only manages the hardware or soft

w

are

,

but helps model diverse business ideas. It allows much closer communication with a client as well as periodic consultation.
Time-saving in the event of continuous operation.
Now, there are questions that you need to ask before finalizing your decisions. What are those?
Do
y
ou need
scaling
of staff for projects
or
overall
operational scalability?
The two models give different scaling options depending on the needs. Staff Augmentation allows for extra hands and works wonders for scaling specific project requirements. Managed Services are a good option for scaling operations as the business gets bigger in size.
Whether to go for a long-term or short-term partnership?
The partnerships, whether long-term or short-term, get decided on the business needs. One of the greatest benefits of IT Staff Augmentation service is that it Is a short-term approach, and once the project requirement is over, the need ends. Whereas Managed Services are long-term partnerships. This specific model is best to rely on in the case of long-lasting business processes such as consultation, the pairing of core skills and strategic growth.
Staff Augmentation works best for startups or small businesses. It reduces a lot of costs which gives an added advantage to the startups.
When does a business need an IT Staff Augmentation service?
Under the following situations, a business needs to go for an IT staff augmentation service or hire dedicated experts from a Staff Augmentation Firm:
Increasing Op-ex is easier than increasing Cap-ex

–

For consideration of scaling up the team, the decision is usually heavily influenced by the finance team or investors. It is difficult to showcase an increase in capital expenditure versus any increase in operational expenditure, as the investors understand that operating expenses can be controlled to increase or decrease as per the situation, and many a time are more comfortable with it. Staff Augmentation provides exactly that, a short-term strategy to take care of short-term spikes in workload.
When a particular project demands more skilled people

–

An operation already has a project running and an internal team working on it. However, it seems to be moving slowly. In this situation, choosing an IT Staff Augmentation

service provider is quite a decisive approach. It allows to incorporate expert engineers and developers into existing processes and systems. The result is more talent and manpower availability without wasting time on onboarding.
Local resources are exhausted –

At times when the local resources get exhausted and it becomes difficult to manage the project, it is wise to choose an IT Staff Augmentation firm. This is the best way to get skilled people who are more up-to-date with the newer technologies.
Require skill flexibility –

 Your multiple projects are going on and some of them need different areas of expertise. Since the demand for such skills fluctuates, hence it needs to be addressed dynamically based on project requirements.
During relocation, transformation or setting up a new branch –

Your business is growing, and you're forming a team to support a new business model or location. Staff Augmentation ensures that the task gets done while you work on your capacity planning. 
To Free your resources for core areas –

You're working on a project that's growing and needs new, inventive features, but you don't have enough developers to handle the coding. At this moment, hiring an augmented staff to take care of the workload allows the internal team to focus on core areas.
In need of specific skills for the short-term –

At times, some complicated sections of your projects may require special insights and skills. The benefits of the IT Staff Augmentation service is the provider provides an opportunity to bring that skill strictly as per need basis.
Conclusion
We have understood the above-mentioned information via our practical experiences while working with businesses of different sizes. At Mind IT Systems, we have a dedicated team of highly-skilled developers with innovative minds working with businesses to accomplish project-specific goals. If you are a startup looking for help in building your product or looking for a  remote team to hire for a particular project, contact us today!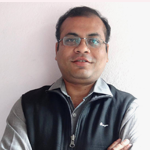 Sujoy Roy
(Head – Digital Marketing)
From my teenage time, I had a quench to solve problems and loved leadership. Starting my career in relation management, ignited my passion for managing people. While managing I realized technology needs to be incorporated to keep pace with the changing world & do my work efficiently.