How to Find and Hire the Best App Developers in India?
In today's digital world, businesses must look for skilled app developers to create mobile applications that leave a lasting impact on users. With an abundance of competent professionals available worldwide, selecting the best app developers in India can be an intelligent choice for decision-makers. Why is it so? As a global hub of exceptional app development talent, India offers a vast pool of professionals well-versed in various cutting-edge technologies and platforms. Statista reports that India's app development industry thrives due to its skilled workforce and cost-effective advantage.   
In this article, we have provided valuable insights and practical strategies to help entrepreneurs navigate the process of finding and hiring top-notch app developers in India who can deliver outstanding results aligned with their business vision and goals. 
So, get ready to unlock success with these tips!   
The Benefits of Hiring App Developers in India
Hiring app developers in India can offer numerous advantages in app development. With exceptional skills and expertise, Indian app developers have become a sought-after resource for businesses worldwide. Here are some benefits to consider:  
Wide Talent Pool
India boasts a vast talent pool of app developers, providing diverse skills and expertise.  
Cost-effectiveness
Hiring app developers in India is often more cost-effective than in other regions without compromising quality. 
Quality Output
Indian app developers are committed to delivering high-quality work, ensuring your app meets the highest standards. 
Cultural Compatibility
Many Indian app developers have experience working with international clients, making them adept at understanding diverse business requirements and cultural nuances. 
Timely Project Delivery
Indian app developers are known for their professionalism and adherence to project timelines, ensuring the timely delivery of your app. 
Technological Expertise
Indian app developers stay updated with the latest technologies, frameworks, and industry trends, allowing them to create innovative and cutting-edge apps.  
Communication Skills
English proficiency is widespread among Indian app developers, facilitating smooth and effective communication throughout the development process. 
By harnessing the benefits of hiring app developers in India, businesses can access top-notch talent, reduce expenses, and get quality outcomes for their app development projects.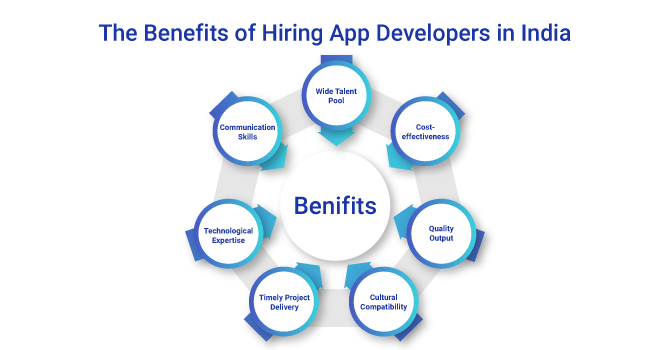 Top Platforms and Resources to Find and Hire Indian App

Developers

 

 
To find and board Indian app developers, businesses can explore a range of platforms and resources. Some of the most used options include:   
Freelance Platforms
Freelance platforms like Upwork are good places to search for and employ the best app developer in India. However, avoiding freelance platforms like Upwork, which often provides fake profiles, is always better. Trust Clutch, Manifest, and LinkedIn for reliable guidance instead.      
LinkedIn
LinkedIn is one of the top-rated platforms for finding and hiring app developers. The platform has a robust search feature that lets businesses quickly locate developers based on their skills, experience, and location. 
Clutch
The Clutch is one of the best and most reliable platforms that allow businesses globally to find and hire top-quality app developers in India. It offers detailed reviews of app development companies and ratings based on the quality of work, cost-effectiveness, and communication skills.     
Manifest
Manifest is another B2B ratings and reviews platform that helps businesses find and hire top mobile app developers in India. It provides detailed reviews of app development companies and ratings based on the quality of work, cost-effectiveness, and customer service.   
How to Evaluate and Select the Right App Developer in India for Your Project?
Choosing the right app developers in India can be a challenging task. With so many developers, strategically evaluating and selecting the right one for your project is essential. Check out the critical factors when evaluating and selecting an app developer in India. 
Understand Your Project Requirements  
Before you start looking for an app developer in India, it's essential to understand your project requirements clearly. It includes the features and functionality you need in your app, the platforms you want to target (iOS, Android, etc.), and your timeline and budget. After comprehending your project specifications, search for developers with the required skills and experience to fulfill your requirements.  
Look for Relevant Experience and Skills 
When evaluating app developers in India, looking for those with relevant experience and skills is essential. It includes experience developing apps like yours and expertise in the specific technologies and frameworks you plan to use. Look for developers who deeply understand the app development process and can provide valuable insights and recommendations to help you achieve your goals.  
Review the Developer's Portfolio 
A developer's portfolio is a great way to evaluate their work and expertise. Find developers with a strong portfolio of work demonstrating their skills and experience in app development. Please pay attention to the quality of their work, attention to detail, and ability to deliver projects on time and within budget. 
Check References and Reviews 
Checking references and reviews is essential in evaluating app developers in India. Ask for references from previous clients and contact them to learn more about their experience working with the developer. You can also read reviews and ratings of app developers on platforms like Clutch and Manifest to get a sense of their reputation and track record. 
Assess Communication Skills and Language Proficiency 
Effective communication is vital when working with app developers in India. Search for developers with strong communication skills who can effectively communicate in English and other languages. Evaluate their level of responsiveness and ability to comprehend your project needs while also ensuring that they provide regular updates on the project's progress.   
Evaluate Cost-Effectiveness 
While cost must not be the only factor you consider, choosing an app developer in India who offers competitive rates that fit your budget is crucial. Consider developers who provide transparent pricing and are willing to work with you to find cost-effective solutions that meet your needs. 
Choose Wisely      
Choosing the right app developer in India requires careful consideration and research. By evaluating developers based on their experience, skills, portfolio, references, communication skills, and cost-effectiveness, you can make a concrete decision that is best for your project. Picking up an appropriate app developer can play a critical role in determining the success of your project. Therefore, it is essential to select wisely.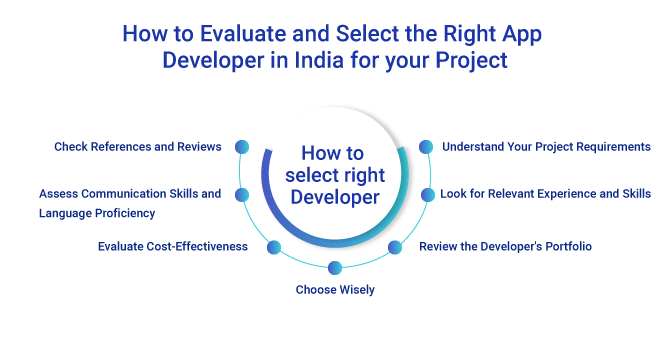 Best Practices for Managing and Communicating with Indian App Developers
Effective communication and collaboration are essential when working with app developers in India.  Businesses can ensure a productive and successful working relationship by establishing clear communication channels and best practices with the app development service provider.   
Here are certain best practices that entrepreneurs must take care of while working with the app developer team from India.   
Create a detailed project scope that outlines your project goals, timelines, and deliverables.

 

Establish regular check-ins and progress updates to ensure everyone is aligned and on track.

 

Leverage project management tools like Asana, Trello, or Jira to manage tasks and deadlines.

 

Provide

clear and specific feedback to help

Indian

app

developers

understand what needs improvement or change.

 

Schedule regular meetings with your app developer in India to discuss project status, issues, and next steps.

 

Establish a communication protocol that outlines how and when to communicate with

your

app

development team.

 

Encourage open and transparent communication to build trust and foster collaboration

with app developers in India

.

  

 
Top Challenges and Pitfalls to Avoid When Working with Indian App Developers
Working with app developers in India can be a great way to access top talent at a competitive price. However, there are also some challenges and pitfalls to consider.  
These include: 
Lack of clarity and accountability

which

can lead to project delays and cost overruns.

 

Poor project scope and goals can result in misaligned expectations and deliverables.

 

Bad project management and planning can lead to missed deadlines and quality issues.

 

Improper

communication channels and protocols

can result in

miscommunication and frustration.

 
Although there are risks, there are ways to overcome them.  
Below are some tips shared that can allow you to cultivate a solid and enduring partnership with your Indian app development team and contribute to your project's success and business goals. 
Tips for Building a Long-Term Partnership with Your Indian App Development Team
Building a successful and long-term partnership with your Indian mobile app development team is vital for project success. Here are some crucial tips to follow: 
Tip # 1 Establish clear communication channels  
Use efficient communication tools and establish regular meetings to ensure seamless communication with your Indian app development team. 
Tip # 2 Foster collaboration 
Encourage open collaboration and idea sharing between your team and the Indian app developers to maximize creativity and productivity. 
Tip # 3 Provide a detailed project brief 
Clearly articulate your project requirements, goals, and expectations to ensure a shared understanding between you and your app developers in India.   
Tip # 4 Maintain transparency  
Foster transparency in all aspects of the project, including timelines, milestones, and budget, to build trust and maintain a healthy working relationship.  
Tip # 5 Respect cultural differences 
Be mindful of cultural differences and respect customs and working practices to foster a harmonious partnership.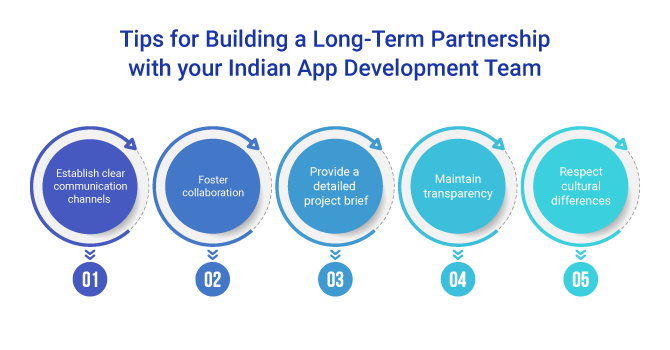 Questions
you need to ask
your Service Providers before hiring
Here are some frequently asked questions that we've put down that you can ask your service provider before hiring app developers in India for your projects.   
Q1: What are the associated costs of recruiting your developers? 
Q2: How to establish clear communication channels with my app development team?      
Q3: What is the process of hiring app developers for my projects?   
Q4: Do you offer full-stack app developers for hire?     
Q5: Can I get regular updates on the progress of my app development project?  
Q6: Can I swap out my developer if they do not meet my expectations? 
Q7: How is the project managed?  
Q8: Can I get my developers for hire to work round the clock?
India has become a top destination for app development services, attracting businesses worldwide. Its vast talent pool, competitive pricing, and commitment to quality make hiring app developers in India an intelligent choice.    
By following the proven steps and tips in this article, you can confidently navigate the hiring process, ensuring a successful partnership.  
Are you searching for the best app developers in India? Partner with us – a team of the best minds!  
As a prize-winning custom software development company, Mind IT® offers seasoned software developers on an hourly, monthly, or individual team. Our experts are pros in building native and cross-platform mobile applications based on your business requirements and objectives within budget and on time without compromising quality. We deliver simple apps to enterprise-grade complex solutions using the latest technologies and frameworks like AI, ML, and IoT to allow businesses globally to gain a competitive edge and stay ahead in the digital realm.   
Some Frequently Asked Questions (FAQs)
Our clients frequently ask similar questions when seeking help with mobile app development. To assist them, our experts have compiled a list of frequently asked questions with corresponding answers. 
Q1. What are the advantages of outsourcing App development to India?
Ans.  Choosing to outsource application development to India has a multitude of advantages. 
You can have your app developed by a team of

highly talented

and skilled application developers.

 

Achieve cost-effective development and reduce your total investment budget.

 

Prompt delivery and

operates

24/7 to deliver projects within deadlines. 

 

Government policies that are favorable to the IT industry.

 

 

Proficient infrastructure with quick and efficient services.

 
Q2. How much does it cost to hire an app developer in India?
Ans. The cost of hiring app developers in India depends on the following things. Have a look at it below.  
The programming language you want to use for you mobile app development

Number of professionals involved

,

the functionalities

, and

complexities

(Java, Kotlin, PHP, JavaScript)

Project size and complexity 

 

 

 

Years of

developer's

experience

(senior, mid-level

,

and junior) 

 

 
Q3. How much time it can take to build my app?
Ans. App development time varies depending on the project's complexity and scope. 
Q4. What platforms do you use to develop apps?
Ans. We specialize in developing mobile applications for both iOS and Android platforms. Our services also extend to providing hybrid/cross-platform mobile application development solutions using HTML5. 
Q5. What types of industries do your app developers serve?
Ans.  The industries our app developers in India serve includes–
Fintech 

Healthcare

Education 

Publication 

Supply chain

 

 
Q6. How much might it charge if I want to go for cross-platform/multi-platform apps?
Ans. Several factors determine the cost of creating a cross-platform app, including the number of screens, the complexity of features, the location of the developers, and ongoing maintenance. 
Q7. What are the average app developers' rates from India?
Ans. You can expect rates to vary significantly based on the type of app you're creating and the features you plan to include.   
Q8. How do I know about my project status?
Ans. We assign a project manager to every app development project who keeps our clients updated through constant communication via Skype, email, and video calls. Our clients only need to interact with the project manager.   
Q9. What are the steps to hire app developers?
Ans. To hire app developers in India for your project, we follow simple steps –   
Please share with us your specifications or desired candidate profile

. 

Following that, based on our extensive skill pool, we

might

narrow down the app specialists who are best suited to your needs

.  

C

onduct

a

video interview with one of our

app

developers. 

 

Once we receive your approval, our sales team begin

s

the agreement process and

brings

in the necessary resources for your project

.  
Q10. How essential is it to test the app as part of QA?
Ans. Testing the app as part of QA is essential to ensure functionality, performance, and user satisfaction while minimizing post-deployment issues. It validates the app's quality, stability, and compatibility across devices and platforms. 
Q11. I want to improve my existing app? Can you do it for me?
Ans. We offer flexible mobile app development services to fit your needs, from creating new apps to enhancing existing ones. Our team of mobile app developers in India can handle everything or just specific tasks, and we ensure high-quality results. We also offer migration services if needed. 
Q12. Do your app developers sign a non-disclosure agreement?
Ans. Yes. Be rest assured that your data is secure with us as we follow the NDA agreements and adhere to IS 17428 for data privacy management.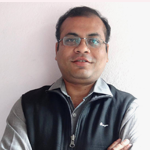 Sujoy Roy
(Head – Digital Marketing)
From my teenage time, I had a quench to solve problems and loved leadership. Starting my career in relation management, ignited my passion for managing people. While managing I realized technology needs to be incorporated to keep pace with the changing world & do my work efficiently.