Why digital transformation strategy is essential for businesses?
90% of CEOs believe the digital economy is going to impact their industry, but less than 15% are executing a digital strategy.      
Be mindful that digitalizing your business processes and aligning tools with a well-grounded strategy for delivery makes a real difference. It can bring many benefits like lower risk, agility, and innovation and help you compete well in a constantly changing world.       
Choosing a digital strategy necessitates rethinking and reinventing the tasks you need to do to reach your target audience. It concerns your people, your procedures, or the technologies and tools you use. If you are thinking, can it create an impact on all industries? The answer is YES.  
Now: why is it a top priority for businesses in modern days?  
The article can help you uncover why digital transformation strategy is a top priority–crucial for your business growth, its top five benefits, and more.  
Digital Transformation Strategy: What does it entail
? 
Simply put, it refers to a thorough strategy for utilizing digital technologies to enhance a company's production, engineering, and service operations. In other words, a long or short-term IT roadmap can guide success in this competitive digitalized era. It starts with building bridges between the current state and the desired long-term plan.  
According to Gartner, a practical roadmap for digital business transformation can give the best scope to scale and lead the digital transformation journey.  
The pandemic and other events have driven online business activities up to 28%. As per a report by IBIS World, this trend is expected to increase in the upcoming days.   
Digital Strategy: A Crucial Component of your Business Growth
A digital strategy outlines how to achieve the goals of your digital project in the most efficient manner. It seeks to identify the activities and processes that need to change to provide better customer service. 
Understanding Digital Strategy in terms of Digital Transformation

–
Both terms are closely related to each other. Digital transformation mainly relates to changes in three crucial areas – operational process, business models, and customer experience. While digital strategy refers to a shift in business models and utilizing technology to improve the capabilities of a company to become a digital business.   
What does

digital business

mean to organizations

?

Boost team member productivity with tools like AI-assisted procedures.

 

Opportunity of improving corporate performance management through data accessibility.

 

Meet the expectations of the customer

.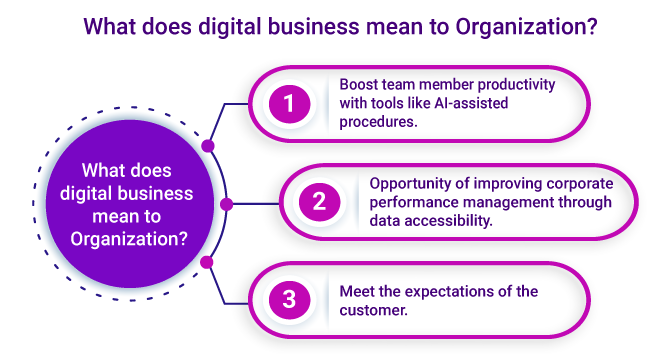 Creating a digital strategy is crucial in the transformation process because it allows technology to support business goals.   
At least 40% of all businesses are likely to die in the next 10 years… if they don't figure out how to change their entire company to accommodate new technologies.
Whatever your business's vision is for the future, developing a digital transformation strategy is essential to business growth. Apart from offering several benefits, it can enable you to enhance business performance, whether building a new product or reimagining the current processes. 
The
T
op 5 Benefits of Digital Transformation
S
trategy for Businesses
?
If you are yet to realize the significance of a digital transformation strategy for your business, you may miss out on a lot.     
Check out the top five benefits of instigating a digital transformation strategy – 
Productivity gains and a decrease in mental pressure 
Streamlining or improving processes to eliminate workarounds is possible by creating a digital transformation strategy incorporating digital technologies, such as artificial intelligence or other online applications. Digital technologies make the automation of repetitive tasks and efficient workflows possible. It lessens the need for physical labor, lowers error rates, and increases output. Task completion takes less time in teams, giving employees more time to concentrate on higher-value work.  
Greater agility    
Creating a digital strategy is the only way for businesses to become nimble in projects and operational areas genuinely. Automation and increased production lead to more agility. Team agility throughout your organization is possible by using digital technology that performs labor-intensive tasks throughout your processes. It expedites decision-making, information flow, reporting, and deliverables.  
An improved level of consumer satisfaction and engagement   
Most of today's millennials and gen-z interact online, representing a sizeable group. Implementing a digital transformation strategy can meet their evolving demands and expectations. It positions your company where customers are on social media, on platforms for self-service, and interacting with them through chatbots and other tools. Making it more straightforward for customers to bank, engage, shop, and conduct business increases your company's effectiveness and efficiency.   
Expanded possibilities 
Building a digital transformation strategy can help you to recognize and address change and difficulties. Taking this step can give your organization a better chance to seize opportunities. Almost 85% of business executives have claimed that digital transformation efforts have created new business opportunities. Where can digital transformation strategy take you? The journey seems to be never-ending (insights from 1700 business leaders.)  
Increased levels of productivity 
Developing a digital change strategy can provide a roadmap to deal with uncertainty, i.e., to deal with the speed of change and changing customer expectations by leveraging technology. It can enable an increase in the level of productivity. Based on the top business tech report, the companies that have already adopted digital transformation strategy can reap the perks like gaining customer loyalty and boosting revenue growth from those who have yet to hop onto the bandwagon, need to compete, and struggle to impress customers.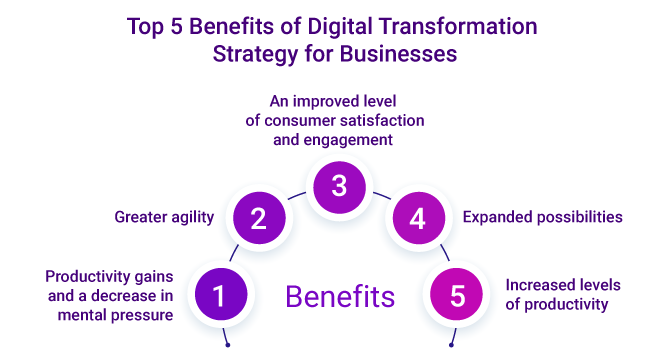 Who is restricting the company's digital transformation wits? 
According to the 72 vital digital transformation statistics 2023 report, mainly the digital transformation wits for the companies are held back by the company's board of directors or CEOs (37%), the senior executive team other than CEO (32%), middle managers (18%), department heads (26%) and line employees (10%.)   

Key Questions to Ask for your Digital Strategy
Before building a digital transformation strategy, primarily find answers to the questions–who, what, why, which, and how.  
Q1. Who needs a digital strategy?
Ans. Every company must develop a digital strategy. The strategy outlines how to reach your online goals and informs your marketing tactics.   
Q2. What are your competitors doing?
Ans. Understanding the competitive landscape of your industry can help you assess your market position. It can help you determine how drastic your timelines need to be and what things you must roll out on a priority basis in the roadmap.
Q3. You're undergoing a digital transition, but why?
Ans. The implementation of digital transformation cannot happen in a vacuum; it needs to be pertinent to the operations of your business and need the required support. 
Q4. Which areas of your organization require the most assistance with a change?
Ans. Your approach might get off to a more strategic start if you can identify the areas that need more digital attention than others. Early in the process, big-impact decisions can result in victories. A lesser tolerance for experimentation and failure might arise from directing resources toward a change that is not urgent. 
Q5. How much software customization can your company handle?
Ans. Knowing your digital needs and working with a service provider who can adapt to them is essential. Your software strategy and IT infrastructure can significantly aid in identifying this need and moving forward with the right service provider.  
Adapting to digital change is a challenge for every business. Today, customers expect brands to provide them with personalized, convenient, and immediate service. In addition to loyalty and advocacy, those who provide them can benefit. Firms must embrace the emerging technologies and digital channels embedded in the customer experience regardless of sector or industry to thrive on today's commercial battlefield.     
To ensure the right ingredients for your digital transformation success, consult our seasoned experts for support and assistance.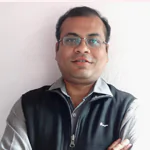 Sujoy Roy
(Head – Digital Marketing)
From my teenage time, I had a quench to solve problems and loved leadership. Starting my career in relation management, ignited my passion for managing people. While managing I realized technology needs to be incorporated to keep pace with the changing world & do my work efficiently.