Discover the 3 Stages that Define Your Mobile App Design Success
"Art is not what you see, but what you make others see" – Edger Degas 
Unlike any other art, designing mobile apps also brings immense value to any business. It is something that gives the first impression to its users. A mobile app appropriately designed allows a business owner to increase engagement, enhance customer satisfaction, and improve ROI.  
The concept of mobile app design is broad and imprecise. Business owners often have many questions around it– what kinds of stuff need to be taken care of what the stages to success are, whom to approach, etc. 
Want to know the best part?  
Here it is: The genuine success of your mobile application design rests mainly on the three crucial stages.   
To discover the three crucial stages in detail that truly define the success of your mobile app design, read more.  
Stage # 1:  Business Audit
In the very first stage of your mobile application development project, you need to analyze whom you are going to target, i.e., the target audience for your business, the target platform, the development approach, and the functional requirements. It sounds a bit techy, but these are the fundamental decisions that can lead to success.  
Next, you can start by checking out the development approaches. There are three development options; pick one based on your business needs, budget, and time-to-market. Whenever you decide on the platforms, perform good research on your target audience preference, which may differ depending on the geographical location and funds.    
The three development options available for mobile app design include the following –   
Native app development: App UX and UI design adhere to the platform's original rules. In terms of look and feel, it's the same as any factory app for that platform. The implementation costs of this development option are high, but it guarantees high satisfaction levels for users.   
Hybrid app development: The user experience (UX) and user interface (UI) are alike on different platforms; hence, some users might feel unnatural. On the other hand, the execution cost is almost 2x times less than the native app.    
Cross-Platform App Development: UX (user experience) and UI (user interface) offer a real-native look for users on diverse platforms. This approach requires about 70% of the costs related to native development.     
After defining your fundamental necessities, you must be mindful of your actual mobile app design process. A UX designer handles the process in collaboration with a business analyst. 
The UX designers act as a linkup between the company and the customer. They enable businesses to understand the customer's needs and expectations and meet their end goals. User experience designers are responsible for market research, product development, strategy, and design. They also look for new opportunities for the product, company, or business to expand. Defining every user's action while utilizing a product is part of their job.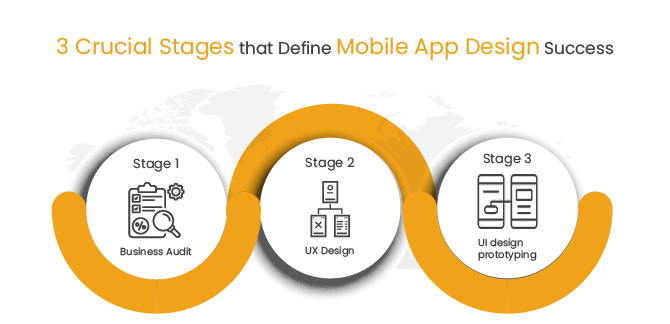 Stage # 3: UI design Prototyping 
Creating UX wireframes, typically homogeneous in style, is the core functional area of work of user interface designers. It is the last stage upon which the mobile app design success depends. The UI designers integrate basic wireframes with your company's brand values, a design norm for each platform, and the most recent mobile design trends to create a vibrant, high-quality digital prototype. In addition, the User Interface designers can enable you to develop a mobile app with similar functionalities to the web app.       
Once the prototype is complete, the UI designers can request feedback. Ensure to provide all your thoughts and queries at this moment so that they can help you fix them and evolve the product, even if that might be costly. Or else, it might be multiple times costlier later if you do not reveal your opinions at this stage.     
Remember, the mobile app design procedure is complete only after you approve the UI prototypes. And once you agree, you can proceed safely with your product development process. 
In today's age of digitalization, where everything has become digital, from shopping, ordering foods online, banking services, etc., an excellent mobile application design is vital for any business to engage customers.     
A mobile app design is an unending process, but adhering to the above three stages is essential to make it successful. Failing any of the stages can lead to failure in app design success following the development process. Each project's requirements are unique, so you must specify your requirements from your end, or else it can derail your development process, causing a delay in deployment and wasting time and money.      
Do you need help with your mobile app design process? Reach us for any queries, support, or consultation.   
At Mind IT® Systems, we have a team of expert UX/UI designers, business analysts, well-versed engineers, and QA helping businesses globally with its adept web and mobile app development services.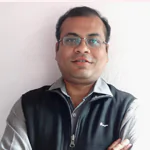 Sujoy Roy
(Head – Digital Marketing)
From my teenage time, I had a quench to solve problems and loved leadership. Starting my career in relation management, ignited my passion for managing people. While managing I realized technology needs to be incorporated to keep pace with the changing world & do my work efficiently.