Hire Web Developer in India: A Decisive Guide
Unquestionably, the expertise, dedication, and cost-effectiveness, have made web developers in India a go-to choice for businesses worldwide.
Are you searching for a skilled web developer in India? You're in the right place.   
India is renowned for its pool of highly talented and committed web developers with a reputation for delivering exceptional web development solutions.  
Whether you need a stunning website, a robust web application, or innovative digital solutions, partnering with top web developers in India can provide you with the technical prowess and creative edge needed to succeed in today's digital landscape.   
Despite the country's abundance of experts, it can be challenging to find an experienced and talented web developer in India for your project.  
This article provides decision-makers with a comprehensive guide on how to hire an Indian web developer, why to hire web developers from India, and other essential factors to consider. The information can assist you in making the right choice.  
Why
is it good to
Hire Web Developers from Indi
a?
When it comes to hiring skilled web developers, India offers many advantages to companies worldwide. Here are a few reasons why hiring a top web developer in India can be beneficial for your business needs – 
Cost-effectiveness   
Indian web developers often provide high-quality services at competitive rates compared to developers from other regions. The lower cost of living in India allows for more affordable pricing without compromising on quality.   
Technical Expertise   
Web developers in India are known for their strong technical skills. They stay updated with the latest technologies, frameworks, and programming languages, making them well-equipped to handle diverse web development projects.   
Language Proficiency   
English is widely spoken and understood in India. This language proficiency enables effective communication and collaboration between clients and web developers, eliminating any language barriers.   
Cultural Compatibility  
A web developer in India is exposed to a diverse range of cultures and works with clients worldwide. Their cultural adaptability and understanding of global business practices make them easy to work with, fostering smooth collaboration. 
Undoubtedly, web developers from India have earned a reputation for their expertise and professionalism in the global market.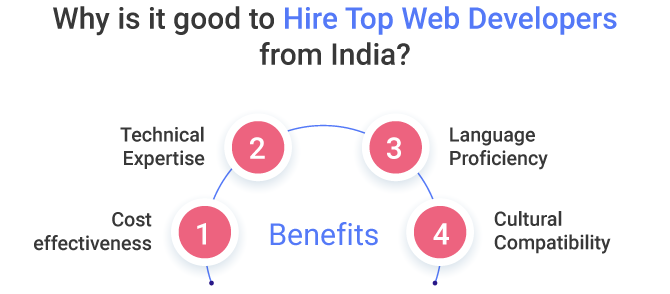 What makes them distinct?  Here are some factors that set them apart –
Web developers in India prioritize delivering high-quality work. They pay attention to detail, follow best practices, and ensure that the final product meets the client's expectations.   
Strong Problem-solving

Skills:
Indian developers have a knack for problem-solving. They approach challenges with creativity and find innovative solutions, ensuring efficient and effective web development processes.  
Indian developers understand the importance of meeting deadlines. They strive to deliver projects on time, ensuring timely completion and client satisfaction.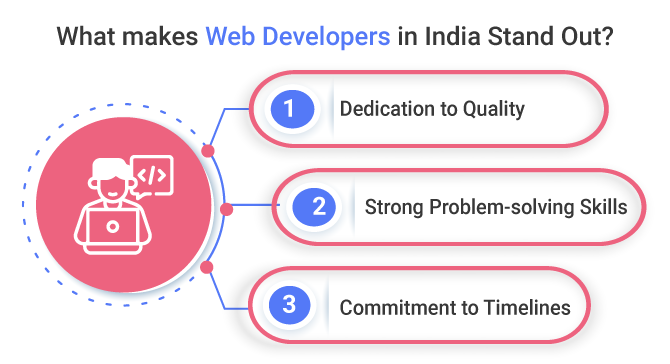 Ready to start your dream Project with Top web developers in India
Now, how you can evaluate a web developer in India?   
Evaluating the Experience and Portfolio of Indian Web Developers  
Reviewing past projects and success stories is essential when considering web developers in India. A strong portfolio demonstrates their capabilities and expertise.   
Look for the following elements in their portfolio –     
Variety of Projects  
A diverse portfolio showcasing various web development projects highlights the developer's versatility. It indicates their ability to handle different industries, design styles, and functionalities.   
Innovative Solutions  
Pay attention to developers implementing unique and innovative solutions in their projects. This demonstrates their creativity and problem-solving skills, which can add value to your web development requirements.  
User Experience (UX) Focus  
Look for developers prioritizing user experience in their projects. Intuitive, user-friendly, and visually appealing websites indicate a developer's understanding of UX principles.  
Client testimonials and reviews of a web developer in India also provide valuable insights into the experience of working with the experts.   
Consider the following factors when assessing client feedback – 
Look for testimonials highlighting the developer's professionalism, technical expertise, and ability to meet project goals. Positive reviews indicate client satisfaction and a good working relationship.  
Successful Collaborations

:
Pay attention to testimonials that mention effective communication, collaboration, and teamwork. It shows the developer's ability to understand client requirements and work seamlessly with stakeholders.  
If a web developer in India has repeat clients or long-term collaborations, it indicates their reliability, trustworthiness, and the quality of their work.  
Communication and Collaboration Abilities: Crucial Traits
Communication and collaboration abilities are the crucial traits that set apart a skilled web developer in India. In the fast-paced world of web development, effective communication ensures understanding client requirements and providing timely updates, while collaboration fosters teamwork and project success.    
Here are key points highlighting why web developers in India excel in these essential traits:  
Indian web developers are proficient in English, facilitating seamless communication with clients worldwide.  
Exposure to diverse cultures enables web developers from India to collaborate easily with clients from different backgrounds.  
Responsive Communication

:
Focuses on prompt and transparent communication to ensure clients stay updated throughout the development process.   
Indian web developers work harmoniously in teams, leading to efficient collaboration with other stakeholders.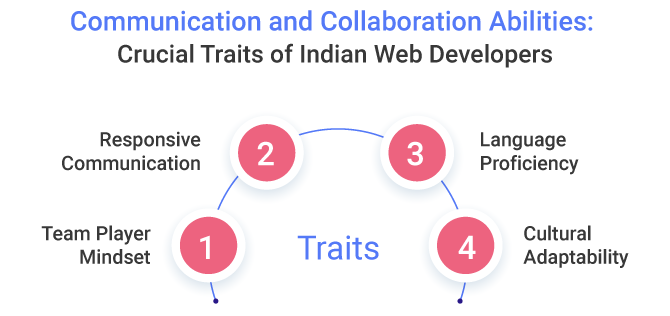 Want to work with Top web developers in India?
Factors to Consider When Hiring a Web Developer in India

 
While hiring a web developer in India, it's essential to count on various factors to ensure you make the right choice for your project. India is known for its talented web developers, but evaluating their skills, experience, and other important factors is necessary.   
Here are a few critical factors to consider:       
Scope and Complexity  
Assess the size and complexity of your web development project. Determine whether you need a developer with expertise in specific technologies, such as front-end or back-end development, e-commerce platforms, or content management systems.    
Budget and Timeline  
Set a realistic budget and timeline for your project. It can help you find a web developer in India who can deliver within your constraints and align with your project goals.  
Specific Skill Sets  
Identify the specific skills and technologies required for your project. Whether proficiency in Kotlin, responsive design, database management, or integration with third-party APIs, ensure the web developer has the necessary expertise.  
Communication and Language   
Assess the developer's English language proficiency and communication skills. Effective communication is crucial for understanding requirements, providing updates, and addressing concerns.  
Time Zone Compatibility  
Consider the time zone difference between your location and India. Ensure that there is a reasonable overlap in working hours to facilitate real-time communication and collaboration.  
Cultural Understanding  
Look for developers demonstrating cultural understanding and adaptability to foster a harmonious working relationship.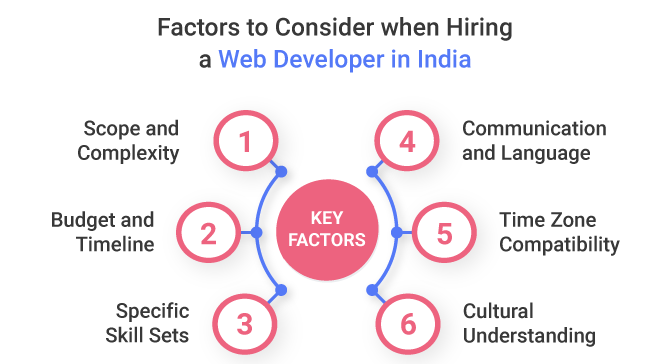 Navigating the Web Development Market in India 
Make sure to carefully research the web development market when searching for a web developer in India. With many options available, businesses need to carefully assess and compare various factors to make an informed choice.    
Consider the following: 
Evaluate the pricing models offered by web development companies in India. Some may charge hourly rates, while others provide fixed-price contracts. Compare pricing structures and ensure they align with your budget and project requirements.  
Look beyond the price and assess the value you can receive. Consider the developer's expertise, portfolio, and reputation in delivering high-quality work within budgetary limits.  
Request client references or case studies from Indian web developers to gauge the quality of their work and client satisfaction. This can help you make a thoughtful decision based on the experiences of previous clients.  
Is it good to hire freelancers or to opt for hiring resources from a web development company in India?   
Comparing Freelancers vs. Web Development Companies in India   
When hiring a web developer in India, you have the option to choose between freelancers and web development companies.   
Before making your final decision reflect on the following:   
Flexibility and Expertise

:
Freelancers offer flexibility and specialized expertise in specific areas. Assess whether a freelancer's skills align with your project requirements. Conversely, web development firms may have a diverse team of professionals capable of handling different aspects of your project.    
Communication and Project Management

:
Evaluate freelancers' and companies' communication and project management capabilities. Freelancers may provide direct contact and faster response times, while a web development company offers dedicated project managers and streamlined processes.  
Consider the scalability of your project and the level of ongoing support required. Web development companies may have the advantage of providing a broader range of services, scalability options, and long-term maintenance and support.  
By considering the components such as project requirements, compatibility, cost-effectiveness, and choosing between freelancers and web development agencies, you can navigate the web development market in India and make a well-thought decision when hiring a web developer in India.  
Finding the Best Web Developers in India to Hire
T
ips
for Hiring 
the Best
Web Developer in I
ndia
Where to find a skilled web developer in India?    
To find skilled and well-versed web developers in India, look for the following paths:   
Review Platforms:  
The clutch is the most dependable reviews platform that empowers businesses globally to discover and employ the top web developers in India. The platform provides comprehensive evaluations of web development companies, considering their quality of work, affordability, and communication abilities.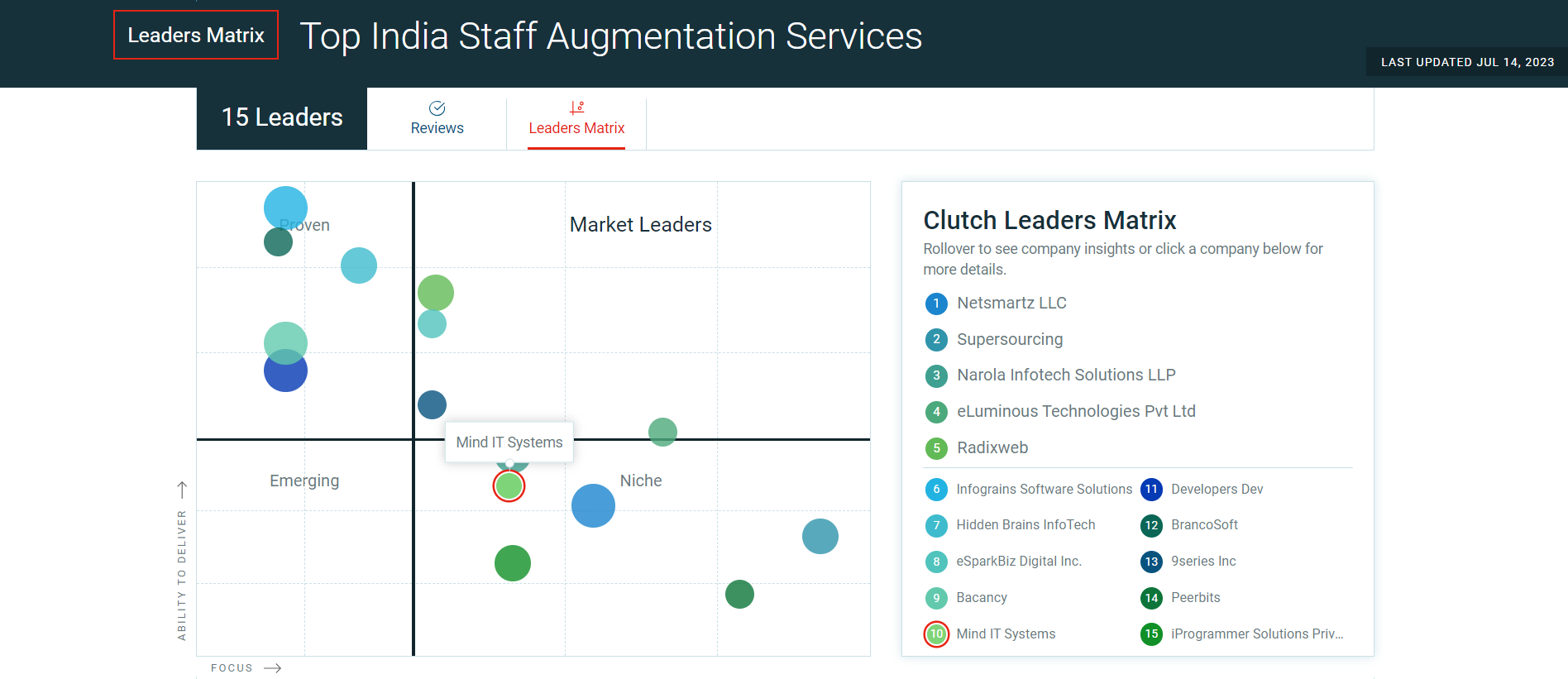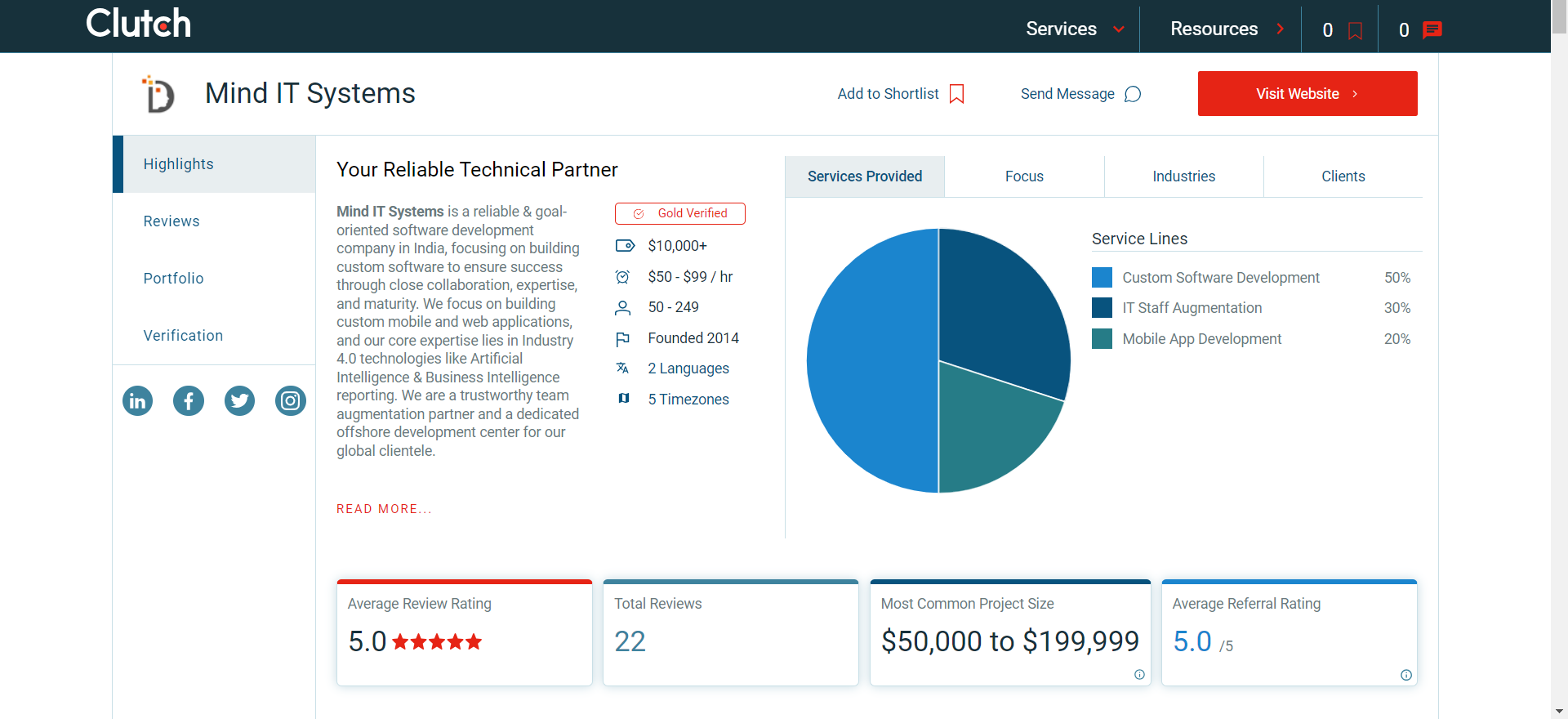 Manifest is another review platform that helps businesses worldwide to find the best web developer in India through ratings and reviews. It offers detailed reviews of web development firms and ratings based on their quality of work, cost-effectiveness, and customer service.
Social Networking Platforms 
LinkedIn is a top-rated platform for finding and hiring web developers from India. It has a powerful search feature that allows businesses to find developers easily based on their skills, experience, and location.  
Referrals and Recommendations
Seek referrals from colleagues, friends, or business partners who have previously hired Indian web developers. Their firsthand experiences can provide valuable insights and recommendations.   
Freelance Platforms
Explore popular freelance platforms like Upwork, Freelancer, and Toptal. These platforms can allow you to find web developers from India. However, it is always good to avoid freelance platforms. Often you might come across fake reviews and ratings of freelancers, which can make you land in a total mess.    
Key Questions to Ask During the Hiring Process
It is important to ask the right questions before making any decisions. Don't forget to be mindful of these essential inquiries while hiring a web developer in India: 
Q1. What is your experience with projects like mine?  
Q2. Can you provide examples of websites or applications you have developed?   
Q3. How do you handle communication and ensure regular updates?   
Q4. What is your approach to problem-solving and addressing challenges during a project?   
Q5. What are your preferred project management methodology and collaboration tools?   
Q6. How do you ensure the security and scalability of the web applications you develop?   
Q7. Do you have references from previous clients who can testify for your work?  
By reviewing case studies and testimonials and asking relevant questions, you can find the top web developer in India with proven success, client satisfaction, and the skills necessary to meet your specific project requirements.  
Embracing the Future:
Web Development Trends
Web developers in India are leading the way in using new and innovative technologies to develop advanced websites and applications. Here are some important web development trends worth considering:   
Single-Page Apps  
Indian web developers with knowledge of React, Angular, and Vue.js are driving the development of Single-Page Apps (SPA). They have become leaders in this field by prioritizing seamless user experiences and performance optimization, influencing global web development practices.  
WebAssembly 
Web developers from India are at the forefront of WebAssembly (Wasm) utilization. Their proficiency in low-level languages like C/C++ enables them to optimize code execution and develop high-performance web applications. By harnessing the power of Wasm, they are revolutionizing web development with enhanced speed, security, and cross-platform compatibility.   
AI (Artificial Intelligence) 
Web developers in India are pioneering advancements in Artificial Intelligence (AI), showcasing their expertise and innovation. With a robust programming and data science foundation, Indian developers leverage AI technologies to create intelligent web applications. Their contributions span various domains, including natural language processing, machine learning, and computer vision, enabling transformative solutions.   
Voice User Interface (VUI) 
With the rise of smart devices and voice assistants, Indian web developers are integrating voice user interfaces into web applications. It allows users to interact with websites using voice commands, enhancing convenience and accessibility.    
Cloud Technology 
Indian web developers lead in cloud technology, using their experience on platforms like AWS, Azure, and Google Cloud. With powerful architecture, deployment, and management skills, they drive innovation in scalable web applications. Their contributions shape the future of cost-effective and flexible cloud solutions for businesses.  
5G Technology 
Indian web developers are paving the way in 5G technology with their expertise in optimizing web applications. They use 5G's capabilities for real-time data streaming, AR, VR, and IoT applications. Their innovations are reshaping industries and driving the future of connectivity.   
IoT (Internet of Things) 
IoT development is one of the strong suits of Indian web developers, demonstrating their proficiency in linking physical devices to the Internet. With a deep understanding of IoT protocols and frameworks, they create innovative and scalable solutions. Their command enables cutting-edge IoT application development, empowering industries with enhanced connectivity and intelligent automation.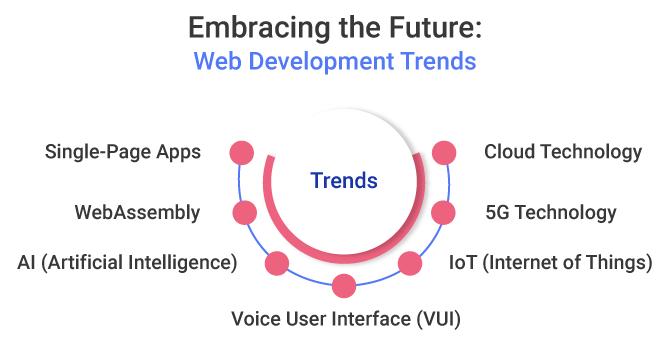 Looking for Skilled Web Developers in India?
Making the Right Choice for Your Web Development Needs 
When finding a dependable custom web development company to hire a highly skilled web developer in India – look no further than Mind IT®.   
Our track record speaks for itself in delivering exceptional web development services. We have web developers who possess the necessary expertise to manage your project seamlessly.   
Here are the key reasons to choose us –   
Experience and Expertise
Our web development team at Mind IT® is skilled and experienced in various technologies and frameworks. We can handle diverse project requirements.  
Client Satisfaction
At Mind IT® client satisfaction is our ultimate priority. We strive to exceed expectations through top-notch solutions and exceptional customer service, as reflected in Clutch's positive reviews.  
Innovation and Creativity
We provide innovative web development solutions, staying up to date with emerging technologies for fresh ideas and cutting-edge approaches.    
Effective Communication and Collaboration
Clear communication and collaboration are two vital components of a successful web development project. Our web developers provide regular updates and involve clients in decision-making for productive working relationships.     
Flexible and Tailored Solutions
We offer customized solutions for your project needs, including web applications, e-commerce sites, and responsive designs. Our team delivers solutions that meet your expectations.     
Timely Delivery
Meeting deadlines is a top priority for Mind IT®. We have a proven track record of delivering projects on time, ensuring that your website or web application is launched within the planned timeframe.   
Q1. How can I hire a web developer from Mind IT®?
Share your specifications.

 

 

We'll

 shortlist suitable specialists from our skill pool.

 

 

Conduct a video interview with an experienced developer.

 

 

Our sales team 

initiates

 the agreement process upon your approval for a smooth onboarding of hired resources to start your project promptly.

 
Q2. What are your hiring models?
Ans. We offer flexible hiring models. These include: 
Dedicated team

 

 

Individual resources

 

 

Project outsources 

 

 
Q3. How much does it cost to hire a dedicated web developer?
Ans. The price of hiring a devoted web developer can fluctuate based on their experience, and your project demands or needs.    
Q4. Can I hire web developers for hourly or project-based tasks?
Ans. Yes. We provide web developers on a monthly, hourly, and full-time basis based on your project requirements.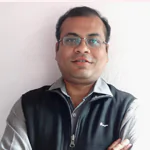 Sujoy Roy
(Head – Digital Marketing)
From my teenage time, I had a quench to solve problems and loved leadership. Starting my career in relation management, ignited my passion for managing people. While managing I realized technology needs to be incorporated to keep pace with the changing world & do my work efficiently.