Mobile App Development in India: Bringing Ideas to Reality
Mobile app development in India has undeniably emerged as the ultimate destination for businesses worldwide. With its abundant pool of highly skilled software developers and cost-effective solutions, India has become the preferred choice for companies seeking exceptional mobile app development services. The unmatched expertise of mobile app developers in India makes them the most desirable option for organizations aiming to create top-notch mobile apps on a global scale.   
By 2024, India might surpass the United States and become the country with the largest population of app developers, solidifying its position in the mobile app development industry (NewsonAir).    
Keep reading to discover more – the success factors driving the landscape of mobile app development in India, the role of Indian app developers in bringing ideas to reality, challenges and opportunities in the Indian mobile application development industry, and how collaborating with a trusted mobile app development company in India can fit your business and drive growth.    
Mobile App Development
India: Factors Driving Success
Mobile app development industry in India has witnessed remarkable growth and gained global recognition in recent years. Indeed, Indian app developers have emerged as vital players in the industry, offering unparalleled applications that satisfy a broad range of user demands. Several factors contribute to the success of mobile application development in India. 
What are the key success factors that have made mobile app development in India so popular globally?   
Have a look –   
Abundant Talent Pool
India boasts a vast pool of skilled app developers proficient in various mobile app development technologies and frameworks. 
Cost-Effectiveness
Indian app development companies offer cost-effective solutions without compromising quality, attracting businesses seeking affordable yet robust app development services. 
Technical Excellence
Renowned technical institutes and training programs in India foster technical expertise and knowledge, producing talented app developers. 
Growing Smartphone User Base
Ever-expanding smartphone user base presents a substantial market for mobile apps, driving demand and market opportunities. 
Diverse App Solutions
Mobile app developers in India offer solutions catering to various industries and business needs. 
Digital Infrastructure
India's improving digital infrastructure, including widespread internet connectivity and smartphone access, supports app development and usage.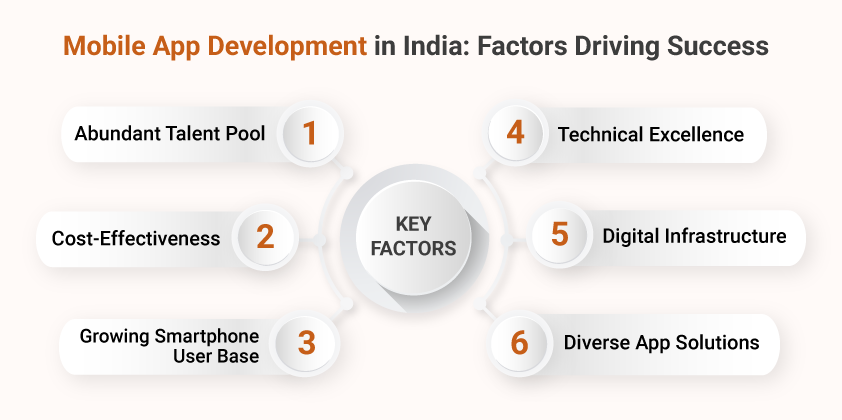 Role of
Indian
Mobile
App Developers
in bringing Ideas to
Reality
With a profound understanding of current trends and advanced technologies, mobile app development services in India encompass a wide range of valuable offerings, from ideation and design to creation and seamless implementation. Indian mobile app developers work closely with clients to develop user-friendly mobile applications and turn concepts into tangible results. They are adept at executing avant-garde methodologies that ensure enhanced efficiency and successful outcomes in all their projects. 
The below pointers highlight how mobile app developers in India add to turning ideas into reality:
Technical Expertise
Indian mobile app developers possess a strong foundation in coding languages, frameworks, and platforms, enabling them to build robust and scalable applications.   
Innovative Ideation
Actively participates in brainstorming sessions, offering creative insights and suggestions to refine app ideas and make them market ready.  
User-Centric Design
App developers prioritize creating intuitive and visually appealing user interfaces, ensuring a seamless and engaging user experience.  
Agile Development Methodologies
They employ agile methodologies, breaking complex projects into manageable sprints and facilitating regular feedback and iterative development.  
Quality Assurance
To ensure the delivery of high-quality, bug-free applications, Indian app developers engage in rigorous testing and debugging procedures.     
Timely Delivery
They adhere to project timelines, ensuring timely app delivery while accommodating any necessary changes or enhancements.  
Ongoing Support
Indian mobile app developers provide post-development support, addressing any issues or updates that arise after the app's launch.  
Communication and Collaboration
They maintain open lines of communication with clients, actively engaging them in the development process and incorporating their feedback.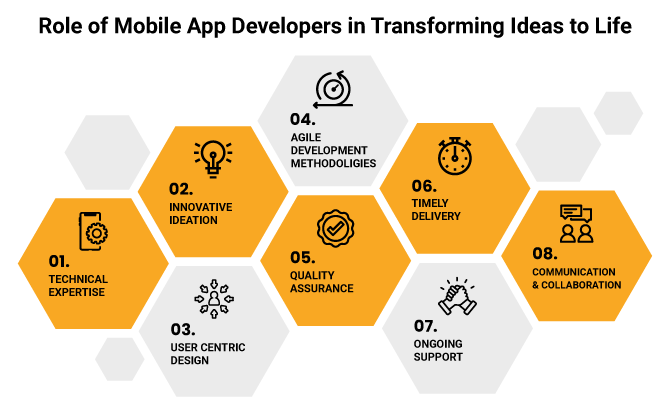 Indian mobile app developers put on significantly transforming app ideas into reality with their dedication and skills. In today's digital sphere, competition among companies is intense. Therefore, hiring skilled app developers in India is essential for success.   
Take a guided tour to explore the success stories of mobile app development in India.     
Success Stories on Mobile app Development India
Mobile app developers in India have made a significant impact on the success of numerous globally recognized mobile apps, unveiling their mastery in the mobile application development field.  
Check out these impressive success stories highlighting the expertise of mobile app development companies in India –  
360 Panorama
Indian mobile app developers successfully transformed the idea of 360-degree panoramic photography into a concrete reality. With a simple tap on the screen and the smooth movement of the device, the user can witness the gradual assembly of panorama, with each constituent frame expertly processed. Upon completing a full rotation, users can save their panoramic artwork or seamlessly share it via email, Twitter, or Facebook.       
Trip38
Trip38 simplified travel planning and management. The app offers features such as real-time flight updates, digital boarding passes, hotel bookings, and itinerary sharing. Users can receive automated notifications, store travel documents digitally, and access weather updates and local guides to enhance the travel experience and keep travelers organized. 
World Newspapers
With World Newspapers, users can select their preferred newspapers and customize their news feed based on their interests and language preferences. The app typically categorizes newspapers by country, allowing users to browse and access publications from specific regions. It offers a user-friendly interface for easy navigation and reading, making staying updated on global news convenient. 
The Best Places to Search for Mobile Apps Developers in India
When searching for reliable and skilled mobile app developers in India, check out the following platforms to find a suitable candidate fit for your project.  
Freelance Platforms
Freelance platforms like Upwork and Freelancer offer a wide range of resources for app developers in India to hire. But often, these platforms are not good to rely on since you might choose an individual with fake profiles. 
Mobile App Development Companies

It is another best platform that offers a curated list of the top mobile app development India companies, including their expertise and client feedback.     
LinkedIn is an excellent professional network that allows you to search for Indian app developers for mobile applications, explore their profiles, and assess their skills and experience.  
Before hiring an app developer for mobile apps, remember to thoroughly assess developers' portfolios, technical skills, past projects, and client reviews before making a final decision. Effective communication, a solid understanding of your project requirements, and cultural compatibility are critical factors for a successful collaboration with Indian app developers and for bringing your vision to life.    
Cost of
mobile app
development services
in India
The cost of mobile app development services in India can fluctuate based on multiple factors including –   
Developer Experience
The level of experience of the app developer can impact on the cost. Developers with more years of experience typically charge higher rates due to their expertise and ability to handle complex projects.  
Mobile App Features
The complexity and number of features required for the app might affect the development cost. Apps with advanced functionalities or integrations may require more development, leading to higher prices.  
Customization
If your app requires extensive customization or unique features tailored to your specific requirements, it may add to the overall development cost. Customization involves additional time and effort, which can impact pricing.  
Project Size
The scale of the project, including the number of screens, backend systems, and databases, can influence the cost. Larger projects require more development effort and resources, leading to higher prices.  
UI/UX Design
The user interface quality and user experience design are crucial for app success. If you require intricate and custom UI/UX designs, it may impact the cost as it involves specialized design skills and attention to detail.  
It's worth noting that outsourcing your project to a mobile app development services provider in India can offer cost advantages compared to other regions of the world due to the highly competitive nature of the Indian mobile app development industry. However, for a successful app development project, you must balance price and quality and search for India's best mobile app development company.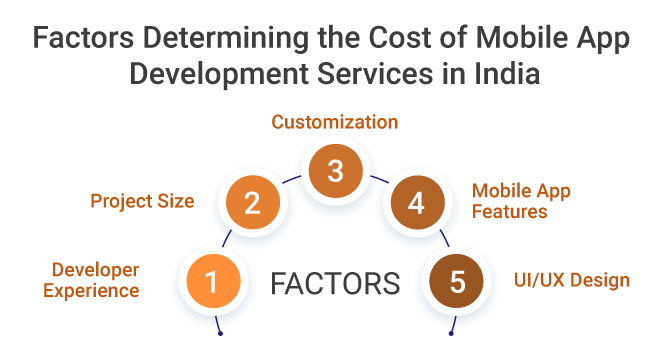 Indian Mobile App Development Industry: Challenges and Opportunities
Navigating the mobile app development industry in India presents businesses with unique challenges and opportunities. Due to a vast talent pool and cost-effective solutions, India emerges as a global leader in mobile application development. However, when selecting a mobile app development company in India, it is crucial to carefully consider various things to ensure a successful partnership.     
Here's a brief overview of the key considerations:       
Competition   
India's mobile app development market is highly competitive, with numerous companies vying for projects. Businesses need to evaluate the expertise and track record of potential partners carefully.     
Technical Proficiency   
Assessing the technical proficiency of the mobile app development company India is crucial. Look for expertise in relevant platforms (iOS, Android, hybrid) and their ability to implement the latest technologies and trends.    
Industry Knowledge 
Consider a company's experience and understanding of your industry. It ensures the mobile app development company in India can develop apps tailored to your business needs and target audience.    
Timely Delivery and Budget   
Evaluate the company's track record in accomplishing projects on time and within budget. Reliable communication and project management are essential for successful app development.   
Choosing a reputable mobile app development company in India can allow businesses to tackle these challenges.    
Outsourcing Mobile App Development to Mind IT®: Why

i

t Makes Sense? 
Regarding mobile application development, partnering with a reliable and experienced mobile app development company like Mind IT® in India can offer several benefits for businesses, including on-time delivery, round-the-clock developer availability, and value-driven results within budget without compromising quality.       
As a top-level ISO-certified mobile app development company in India, we have a proven track record of delivering high-quality mobile app solutions that meet each client's specific requirements.    
Outsourcing your project to Mind IT® – a 5/5 client-rated best mobile app development company in India can enable you to access a diverse talent pool of mobile app developers, expert designers, project managers, and business analysts who are competent to deliver innovative, customized solutions that can help to meet your unique business needs and drive growth.         
Have you got a project in mind? Let's Talk!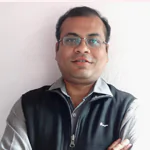 Sujoy Roy
(Head – Digital Marketing)
From my teenage time, I had a quench to solve problems and loved leadership. Starting my career in relation management, ignited my passion for managing people. While managing I realized technology needs to be incorporated to keep pace with the changing world & do my work efficiently.