In the vast landscape of app development, finding the perfect partner to propel your business forward is like unearthing a hidden treasure. But your treasure hunt ends here! Explore the vast possibilities of app development with Mind IT®, a reliable mobile app development company in India, driving global excellence.    
Our team's unwavering commitment to innovation and excellence in crafting captivating apps has made us a trusted partner for global businesses seeking top-tier mobile app development services.    
Differentiating Factors

Team of Experts

 

Comprehensive App Development Services 

 

Mobile App Development Process

Industries We Serve

 

How to Get Started: Contact us for your mobile app project

 

Our Success Stories

 
We possess a team that is a rare amalgamation of technology, innovation, and creativity. From polished user interfaces to dependable backend architecture, we deliver unmatched precision and attention to detail.   
Let's delve into the key factors that make us a reliable mobile app development company in India and distinguish us from the rest.    
What sets us apart?  
———-Our differentiating factors
Top Mobile App Development Company in India: Our Differentiating Factors
In a sea of competition, we sail with a unique blend of characteristics that truly sets us apart. So, what makes us the top mobile app development company in India? Discover the factors that differentiate us from our rivals.    
# Innovative Solutions: The Art of Creating Digital Magic    
Our team of mobile app developers and visionaries create digital masterpieces with innovative solutions, pushing the limits of technology. 
# Client-Centric Approach: Your Success, Our Mission 
We are dedicated to your success and work closely with you to develop a tailored app that meets your business objectives.    
# Diverse Portfolio: A Journey Across Industries   
Our diverse portfolio spans various industries, including healthcare and e-commerce, and we've helped startups and established companies succeed.   
# Talented Team: Where Brilliance Meets Passion   
Our talented team of tech enthusiasts is passionate and dedicated to creating exceptional mobile apps that leave a lasting impression. 
# Transparent Communication: Building Trust, One Conversation at a Time    
As a reputable mobile app development company in India, we prioritize transparency in our client relationships. We involve you in every stage of app development for seamless alignment with your vision. 
# Timely Delivery: Your Time Matters   
We value your time and ensure prompt delivery in our streamlined project management approach without compromising quality.   
# Robust testing: Uncompromising Quality Assurance  
We prioritize rigorous testing to ensure your app is secure and provides an outstanding user experience. Our pursuit of excellence leaves no detail overlooked. 

Team of Experts: Talented Mobile App Developers Driving Innovation
As a leading mobile app development company in India, we take immense pride in having a team of experts who drive innovation. Our talented app developers hold the skills and passion to create exceptional solutions that push the boundaries of technology.  
What makes our team truly unique? 
Technical Proficiency

: Our developers possess a wide range of technical skills, making them well-equipped to handle diverse mobile app projects. 

 
Innovative Minds

: We foster a culture of creativity and out-of-the-box thinking, enabling our team to develop ground-breaking solutions for your app needs. 

 
Proven Experience

: With years of experience in the industry, our experts have successfully delivered numerous mobile app projects, gaining valuable insights.  

 
Collaborative Approach

: As part of our app development process, we ensure our clients' visions and ideas are fully incorporated.  

 
User-centric Design

: As a top-notch

mobile app development company in India,

our team prioritizes creating user-friendly interfaces and seamless experiences to delight your app's users.  

 
Adaptive and Agile

: Our team remains agile in the fast-paced app development world and adapts quickly to changing requirements, ensuring on-time delivery. 

 
Quality Assurance

: We have a rigorous quality assurance process to ensure that your mobile app is of the highest quality and performs flawlessly.
We have a flexible engagement model to hire our expert app developers. You can hire based on your business-specific needs or project requirements.    
For large Projects
Evolutionary Enhancements
Full time dedicated set of resources
No Hidden Cost
Full time Dedicated Member
For Remote team augmentation
Project Management handled by you
No Hidden cost
Pre-Defined Projects
Milestone based Payment
Project Management by Us
No Hidden cost
What can you expect from us?  
——— App development services that keep you covered 
Comprehensive App Development Services 
At Mind IT®, we deliver comprehensive mobile app development services customized to your business needs. We seamlessly convert your ideas into fully functional and user-friendly mobile applications. Our services span around Android, iOS, and cross-platform solutions, guaranteeing complete satisfaction for all your requirements. 
Our strategy as a leading mobile app development company in India revolves around designing user-friendly experiences that connect with your intended audience. 
Here's the list of comprehensive app development services we offer:  
App UI/UX Design

 

Hybrid Mobile Applications  

 

Cross-Platform App Development  

 

Native App Development  

 

Wearable App Development  

 

Enterprise Mobility Solutions  

 

App Development Consultation  

 

Maintenance & Support  

 
Mobile app development technologies






Mobile App Development Process: A Transparent & Collaborative Approach

 
In today's world, there's an app for everything – from ordering food to booking a cab or staying in touch with friends and family. But have you ever thought about what goes into creating a successful app?  
As a renowned mobile app development company operating in India, we believe teamwork and collaboration drive success. Hence, we always maintain a close partnership with our clients at every step of the development process to bring their ideas to fruition and transform their dreams into reality. 
Here's a simplified overview of how we work together to bring our client's ideas to life:  
Understanding your vision: Our journey starts with listening to your ideas and understanding your concept for the mobile app. We value your input and strive to grasp your unique requirements, target audience, and overall user experience to ensure we are on the same page.  
Conceptualization and Planning: Once we understand your app's purpose clearly, our expert team works closely with you to brainstorm ideas and create a solid plan.  
Design and Prototyping: With a well-thought-out plan, our talented designers craft intuitive and visually appealing app interfaces. We create prototypes that allow you to visualize the app's flow and make necessary adjustments before moving forward.   
Development and Iterative Updates: Our mobile app development process is incremental, with frequent updates on the app's progress. We believe in sharing our work regularly, taking your feedback, and incorporating changes to deliver the best product.  
Testing and Quality Assurance: Ensuring the app's functionality, performance, and security is crucial. Our dedicated quality assurance team rigorously tests the app to identify and fix any bugs or issues, ensuring a smooth user experience.   
Launch and Post-Launch Support: We help you launch your app on the app stores and provide ongoing support even after the launch. Our team is committed to addressing concerns, implementing updates, and ensuring your app performs optimally.   
———-Offering innovative mobile app solutions across industries  
Top Mobile App Development Company in India: Industries We Serve   
We specialize in crafting innovative and user-friendly mobile applications to help businesses thrive in the digital era. Our expertise spans various sectors, making us the go-to choose mobile app development company in India.   
By partnering with us, businesses can harness the potential of mobile technology and make a meaningful impact in their respective domain.  
Industries We Serve:  
Fintech:

We are transforming the world of financial services with innovative mobile apps that guarantee secure transactions and effortless user experiences.

 
Healthcare:

Our intuitive medical apps enable quick access to healthcare services, personalized health data, and improved communication between patients and providers.

 
Publishing:

Engage your readers with interactive mobile applications showcasing multimedia features and allowing social sharing.

 
Education:

Our innovative educational apps foster a love for learning, offering interactive lessons, progress tracking, and personalized study plans.

 
Supply Chain:

Optimize your supply chain with our mobile apps, providing real-time insights, efficient inventory management, and streamlined logistics for increased productivity. 

 
HR Systems

: C

ustomized HR mobile and web enterprise applications to simplify your various HR processes including information management, payroll, expense management, and compliance.

 
How to get Started: Contact us for your Mobile App Project 
Getting started with your mobile app project is seamless and exciting when you partner with Mind IT®, a reputable mobile app development company in India. Whether you have a groundbreaking app idea or want to revamp your existing app, our expert team is here to bring your vision to life.  
Here's how to take the first step toward a successful mobile app venture with us:  
Share your idea: Email us or fill out the contact us form with your app concept or project requirements. We are eager to hear about your goals, target audience, and the features you envision for your app.     
Expert consultation: Our seasoned professional team analyzes your requirements and gets you back with specialist consultation. We provide insights and suggestions to optimize your app's functionality and user experience.     
Personalized solution: With a deep understanding of your needs, we craft personalized mobile app solutions tailored to your unique objectives. Our focus is on delivering apps that align perfectly with your business goals.  
Contact us today to kick-start your mobile app project and witness the transformative power of our app solutions. Let's collaborate to create an app that meets your expectations and exceeds them. Your success is our priority, and we look forward to embarking on this remarkable journey together.    
Take the initial step towards your mobile app excellence by contacting India's top mobile app development company, where an app's vision takes flight and reaches a new horizon. 
Planning to Outsource
your
Mobile app Development Services?
Collaborate with Mind IT® for a seamless App journey.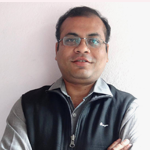 Sujoy Roy
(Head – Digital Marketing)
From my teenage time, I had a quench to solve problems and loved leadership. Starting my career in relation management, ignited my passion for managing people. While managing I realized technology needs to be incorporated to keep pace with the changing world & do my work efficiently.