The digital landscape is developing unprecedentedly, and mobile apps have emerged as a driving force behind modern business strategies. In this context, the expertise of mobile app developers in India has gained widespread recognition for quality and innovation.   
As businesses worldwide seek to leverage the power of mobile applications, choosing the right developers in India has become a critical decision. This article provides invaluable insights into the key factors to consider when hiring skilled mobile app developers from India.    
Continue reading to discover!  
Hiring Skilled Mobile App Developers In India: Factors to Consider
When venturing into the dynamic realm of app development, partnering with skilled mobile app developers in India can be a game-changing decision. The app developers from India bring a wealth of technical prowess and innovation to the table, making India a prominent hub for digital solutions. However, the selection process demands careful evaluation of various factors to ensure a successful collaboration that aligns with your objectives.    
Check out what are those key factors:    
Client Testimonials: Glimpses of Excellence    
Begin by exploring mobile app development companies and delving into their client testimonials. These insights glimpse their track record, revealing their capability to deliver on promises and meet deadlines. Positive feedback highlights satisfied customers and showcases the company's commitment to quality, communication, and customer-centric solutions. By analyzing these testimonials, you can identify mobile app developers in India who consistently demonstrate excellence in execution.  
Technical Proficiency: Unveiling Expertise Beyond Borders 
Success in mobile app development services is contingent upon technical proficiency. Skilled developers deeply understand diverse platforms, programming languages, and cutting-edge technologies. By examining their past projects, you can assess their ability to craft high-performance apps that resonate with your vision.  
Communication Skills: Bridging Vision and Execution Seamlessly  
Effective communication is paramount when collaborating with mobile app developers in India. Seamless interaction ensures that your ideas, preferences, and requirements accurately translate into the app's design and functionality. Look for developers who actively listen, offer insightful suggestions, and maintain open communication channels. It can help you to build a collaborative atmosphere, minimize misunderstandings, and ensure a smooth development process.   
Pricing: Balancing Quality and Investment Wisely     
While affordability is essential, it's crucial to balance pricing and quality. Mobile app development companies in India offer diverse pricing models that cater to different budgets. Choose mobile app developers from India who provide value for your investment by delivering top-notch solutions. Remember that quality development requires expertise and resources, and a judicious investment ensures a functional and user-friendly app that stands the test of time.  
Project Planning: A Blueprint for Success and Collaboration   
Mobile app developers in India who excel in project planning are committed to structured execution. A comprehensive project plan outlines milestones, development phases, and expected outcomes. It keeps the project on track and enables you to monitor progress and provide timely feedback. Transparent project planning demonstrates the developers' dedication to professionalism, minimizing surprises and uncertainties.  
Project's Deliverability & Timelines: Meeting Milestones with Precision   
Reliable developers prioritize on-time delivery. Investigate the mobile app development companies' track record in meeting project milestones and adhering to agreed timelines in India. Punctuality is crucial, as delays can disrupt your business plans and cause frustration. Go for developers who consistently meet deadlines, showcasing their professionalism and respect for your time.  
Post-Maintenance & Support: Nurturing Long-Term Relationships  
An app's journey extends beyond its launch. Ongoing support, bug fixes, updates, and enhancements are vital for its continued functionality. Inquire about the mobile app developers' approach to post-maintenance and support. Developers committed to nurturing long-term relationships ensure your app remains reliable, up-to-date, and adaptable to evolving user needs.  
Intellectual Property & Confidentiality: Safeguarding Innovation   
Preserving intellectual property and maintaining confidentiality is essential. Ensure that mobile app developers in India are willing to sign confidentiality or NDA (non-disclosure agreements) and provide clarity on ownership rights. Transparent agreements safeguard your app's unique features and prevent disputes, ensuring your ideas remain secure.  
Hence, hiring mobile app developers in India requires meticulously assessing these factors. You can confidently choose developers who align with your vision and business goals by evaluating client testimonials, technical proficiency, communication skills, pricing models, project planning, deliverability, post-maintenance support, and intellectual property policies. This strategic approach paves the way for a successful collaboration that transforms your app concept into a tangible one.   
Cost Considerations When Hiring Mobile App Developers in India
When hiring mobile app developers in India, the cost is a pivotal factor that businesses must carefully evaluate. India's reputation as a technology center point has made it a sought-after destination for outsourcing mobile app development services. However, understanding the pricing landscape is essential to make informed decisions that align with your budget and project requirements. 
Elements Influencing Cost:        
The cost of hiring mobile app developers in India can vary widely based on several fundamentals: 
Complexity of the App:

The more complex and feature-rich the app, the higher the development costs. Apps with advanced functionalities, intricate design, and integration with third-party services tend to require more resources and, thus, a higher budget.

 
Platform:

The choice of platform (iOS, Android, or both) significantly affects costs. Developing multiple platforms or targeting specific devices can influence the budget.

 
Features and functionalities:

The number and complexity of features you want to include in your app play a key role in determining costs. Apps with interactive elements, real-time segments, and intricate databases may incur higher expenses.

 
Design:

A well-designed user interface is essential for a successful app. The design complexity and customization level can impact costs.

 
Development Team:

The size and expertise of the development team required for your project will influence costs. 

 
Location:

India is known for cost-effective development, but rates can differ based on the specific city or region. 

 
Thus, hiring mobile app developers in India usually depends on the abovementioned components. Remember that while a lower hourly rate might seem attractive, balancing cost savings with the required quality and expertise is essential. Choosing a reputable mobile app development services provider ensures that you're getting competitive rates and a team with a proven track record of successful app development.  
In mobile app development, India offers a cost-effective solution without compromising quality. By understanding the factors that influence costs and working with experienced developers who provide transparent pricing models, businesses can make logical decisions that can lead to the creation of exceptional mobile apps. Balancing cost considerations with the need for expertise and innovation is imperative in securing a development partner that brings your app vision to life within your budget constraints.  
Partnering with Top Mobile App Developers in India 
After delving into the nuances of hiring mobile app developers in India, the next crucial step is finding the right development partner to bring your vision to life. One prominent name in mobile app development stands out is Mind IT® – a top-rated app development company in India, renowned for its exceptional services.  
 
Why Choose Mind IT®?  
Mind IT® boasts a team of highly skilled and experienced mobile app developers in India who are well-versed in diverse platforms and technologies. We are committed to quality and innovation and have successfully delivered various mobile applications across multiple industries. Our portfolio showcases the ability to tackle complex projects and provide user-centric solutions that align with the client's business goals. 
The facets that separate us from our rivals are:  
Expertise and Excellence: 
Our skilled developers stay up-to-date with industry trends to ensure your app is functional and follows best practices. Whether you want to develop an iOS, Android, or hybrid app, our team can help you realize your vision. 
End-to-End Solutions: 
We cover the entire app development process, from ideation to ongoing support, for a fully functional and polished app backed by a dedicated team focused on your success. 
Innovation and Collaboration:   
With Mind IT®, collaboration goes beyond development. Developers work closely with clients to comprehend their exclusive needs and challenges. A collaborative approach can build an app with innovative features and functionalities that stand out in a competitive market.   
By aligning with a reputable development company like Mind IT ®, you set the stage for an app that meets your expectations and exceeds them, delivering value to your users and achieving your business objectives.   
Q1. How much does it cost to develop a mobile app?
The cost of developing a mobile app can vary significantly depending on the complexity, features, platforms, design, and development team rates. For the most precise estimate that fits your app requirements, it is advisable to seek advice from a reputable development company. 
Q2. How do I go about hiring mobile app developers for my project?
You can hire mobile app developers by following these steps: 
Define Project Scope:

Clearly outline your app's features and goals.

 

Research:

Look for reputable developers or companies.

 

Review Experience:

Check their skills and past work.

 

Communication:

Discuss your project and assess its responsiveness.

 

Request Proposals:

Get cost and timeline estimates.

 

Interview:

Assess compatibility and communication.

 

Check References:

Contact previous clients for insights.

 

Legalities:

Clarify ownership and confidentiality.

 

Finalize Contract:

Agree on terms and details.  

 
Q3. How do you keep my app & data secure?
We ensure app and data security through encryption, secure coding practices, regular updates, and compliance with industry standards. Robust authentication, authorization, and access controls are implemented to prevent unauthorized access and data breaches. Regular security audits and testing further strengthen protection against potential vulnerabilities.   
Q4. What communication mode do you follow for updates?
We communicate clearly and consistently through email, project management tools, and regular status meetings. It ensures you're well-informed about project progress, milestones, and any updates or changes in a timely and efficient manner.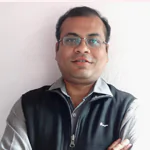 Sujoy Roy
(Head – Digital Marketing)
From my teenage time, I had a quench to solve problems and loved leadership. Starting my career in relation management, ignited my passion for managing people. While managing I realized technology needs to be incorporated to keep pace with the changing world & do my work efficiently.